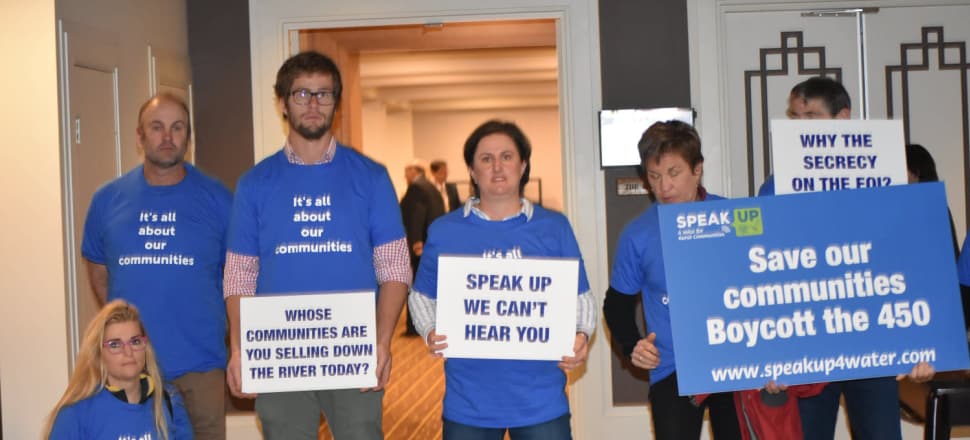 5370537724001
It was a case of speak up — just not inside the Hyatt Hotel — for a group of protesters who were booted from the lobby of the Canberra hotel on Friday.
The group of 11 people from northern Victoria and the southern Riverina were from the Speak Up Campaign.
They were protesting the Murray-Darling Basin Plan ahead of a Ministerial Council meeting of state and federal water ministers when they were approached by Australian Federal Police officers shortly after 8am and advised they were not permitted to conduct a protest within the hotel grounds.
''We're not sure it was necessary to eject our peaceful group from the Hyatt, nor did we need to be guarded by six officers from Australian Federal Police,'' Speak Up Campaign chair and protest organiser Shelley Scoullar said.
She said they simply wanted guarantees from water ministers that rural communities would not be sacrificed under the Murray-Darling Basin Plan.
''Unfortunately we have suffered massive economic loss — $500million a year and 1000 jobs in the Goulburn Valley, and nearly $170million and 200 jobs in the NSW Murray,'' Ms Scoullar said.
''There have been numerous promises about delivering a basin plan that protects our rural communities, but to date they have been hollow.
''We call on ministers to release all key documents and spend the next month on a road trip explaining to communities what they have signed them up to.
There has been too much secrecy.''
Report finds basin plan is hurting rural people
The Murray-Darling Basin Plan has created fatigued communities marred by stress, anxiety and an unviable future, a new report has found.
Released on Thursday, the 50-page report commissioned by the Murray River Group of Councils spoke with several irrigators, farmers, rural counsellors and local business people from six councils — including Moira and Campaspe — regarding the social and economic impacts of the basin plan.
The findings revealed deep-seated distrust of governments and the Murray-Darling Basin Authority, concerns regarding the impact of further water recovery in the region, and anxiety regarding how the region would survive another drought.
''We understand weather okay, and the risk in farming, but when the government starts to play God, I can't factor government. We don't trust them ... They're bad, bad,'' a dairy farmer told the report.
Another irrigator told the report there was a general feeling among the industry that the organisations in charge of the basin plan were not there to support the irrigator.
They said any perception of equality was ''long gone'' with each iteration of the basin plan changing the rules for irrigators.
High prices for water and ballooning debt had resulted in many driven out of the region or forced to sell water, with one dairy farmer saying the ''swiss cheese effect'' across areas such as Kerang had gotten so bad that entire hectares were ''effectively deserts''.
''With no water, yeah, you might as well be trying to farm on concrete,'' they told the report.
The controversial 450Gl of 'up-water' was a topic of intense discussion at Friday's Ministerial Council meeting of state and federal water ministers, with the MRGC report finding the uncertainty surrounding the basin plan had left many communities fractured.
One interviewee told consultancy business Ruth McGowan, who compiled the report, that they would rather drought than the current situation.
''You know what? I can deal with drought. I know it's going to end. I know it's going to finish,'' one interviewee said.
''People are not coping with this as well as they cope with drought.''
Ballooning costs for water on the temporary water market and declining profitability of farm enterprises has also placed increased stress on the mental health of farmers and the regions, with relationship breakdowns increasingly common, according to several rural financial counsellors who contributed to the report.
The burden is increasingly being felt by family businesses who do not wish their children to take on the uncertainty of inheriting the farm and causing uncertainty regarding the future of regional towns.
''If my boys said 'We're thinking about becoming farmers,' I'd bundle them up in the car and drive them out to Ayers Rock and have an intervention,'' a rural financial counsellor said.
''I think that this is going to be a dry, dusty town soon (when) water is not secure, so this town is not secure ... maybe it's not the place I should be residing in,'' a second rural financial counsellor said.