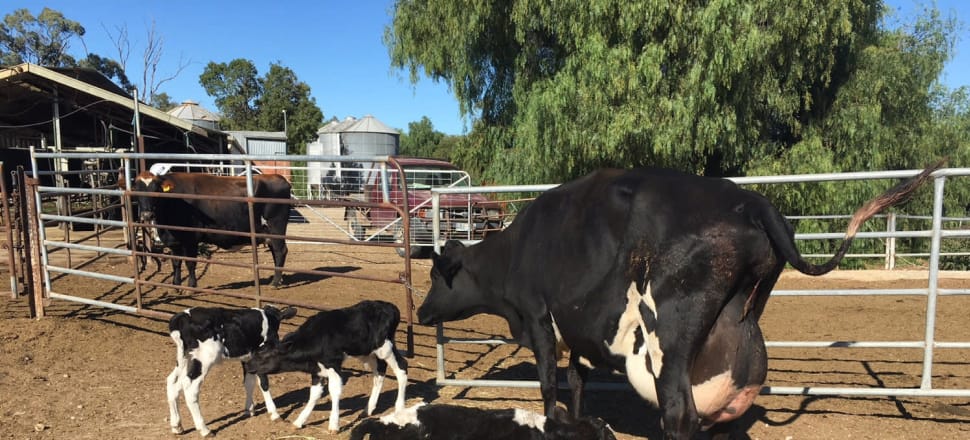 5370537724001
There isn't much that Gary 'Frog' Spittal hasn't see in his 40 years of dairy farming.
But on Monday last week the Gunbower farmer got the shock of his life when one of his cows had triplets.
The cow had given birth to her first calf and was sitting down so he went over to check on her.
''I saw she had feet hanging out so I pulled the calf and walked away,'' Mr Spittal said.
''I presumed it was twins but I got the shock of my life when I came back half an hour later and there was a third calf lying next to her.
''It is pretty rare and I can't recall anyone else I know having triplets.''
Mr Spittal knows for sure the calves all belong to the one mother — she is the first cow in his herd to calve.
''If I hadn't been there and other cows were calving I would have just presumed two sets of twins.''
He estimates the calves, two bulls and a heifer, collectively weigh about 70kg.
''They are a good size and are pretty robust and healthy.''
The mother has been unable to feed them because of the shape of her bag, but Mr Spittal has taken care of that and made sure the three calves have all had a drink of colostrum.
He hopes this will be the only set of triplets he will see — he has another 140 cows to calve.
He described the season ahead as dry and hot.
''The cows are in pretty good nick and that is about the only good thing to come out of the dry weather.
''I am not sure about (milk) prices this year, that's a bit of an unknown at the moment.''
He will be milking about 220 cows this coming season.