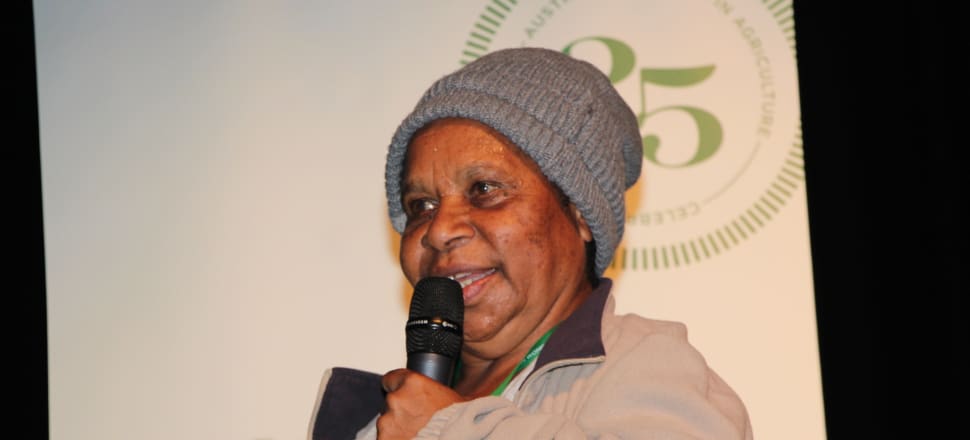 5370537724001
Unusual feed fills a need
Speaker...Maggot farmer Oympia Yarger at the Shepparton Conference
Olympia Yarger doesn't bat an eyelid when she is introduced as ''the maggot farmer from Canberra''.
She was on the panel of speakers at the Australian Women in Agriculture conference in Shepparton recently, and has apparently become accustomed to the off-beat introduction for her novel business.
She is probably the smallest farmer in Canberra: her 'farm' is about 280sqm in the suburb of Fyshwick.
Ms Yarger feeds Canberra's waste food to black soldier fly larvae, and sells the larvae (or maggots) as feed for poultry farmers.
She said the feed from her Goterra business had a similar protein level to conventional stock feed.
One tonne of maggots munch their way through five tonnes of food waste in about 14 days.
The waste includes food from offices, restaurants and bakeries, coffee grounds from McDonald's and trial agricultural waste such as grape remains from wine-making and wheat husks.
Her company also grows meal worms for overseas human consumption.
Ms Yarger grew up with sheep and cattle and attended school in Yass before moving to Canberra and later working as a wool classer. After working overseas she returned to Australia and wanted to get into farming but the cost was a barrier.
''I started Goterra by chance. I was looking into setting up a free-range poultry farm and was searching for an affordable feed substitute. Feed was expensive and there were no sustainable options. With the help of Google, I discovered insects could be used as an alternative feed, so I set about working to fill the gap by breeding insects.
''We sell livestock feed to aquaculture farmers for fish feed, to pork producers for pig feed and to pet food companies — however, we hope to expand on this in the future.''
---
Tapping into knowledge
Melissa Connors.
Hobby farmer Melissa Connors admits to being naive when her family moved out of suburbia and onto two hectares of land at Kyneton in 2011.
The cattle ran out of feed, the sheep escaped and never came back and the dam ran out of water.
''With our grand vision for our property bright in our minds, we quickly found out why our 'new' country home was on the market so cheap — the rose-coloured glasses fell off and smashed to pieces — smithereens, to be exact; I can still feel my heart racing as we began to realise what a steep learning curve we had unknowingly embarked on.''
The family desperately needed good advice — and help was just next door.
Ms Connors met a neighbour who turned out to be a retired farmer and became a font of knowledge for their new farm.
So was borne her idea to link up new farmers with experienced farmers, called ''This farm needs a farmer''.
''In that moment I realised that my farmer wasn't the only one who had moved into town, off the land (usually at their wives' insistence) and found that a house block isn't going to keep them busy like their farm used to,'' she said.
She discovered there were former farmers still living in rural areas who had a wealth of experience.
''They may not be able to keep up with the 'muscle' involved in running a farm, but they certainly still have the know-how — chances are they worked the farms families like mine and other tree changers are now buying up.
''And here they are walking around town with all that precious, invaluable, no-mucking-about farming knowledge in their head — the very knowledge us tree changers desperately need.''
Ms Connors plans to build the support model in her own area and then roll the project out statewide, then nationally.
''This project's primary aim is to build stronger community relations and recognise the value these old farmers possess — seriously, they do not even realise how much they know.''
Ms Connors won the AgriFutures Rural Women's achievement award for 2018 with her project.
---
Book shows diversity
Kim Storey.
When photographer Kim Storey Googled ''farmer'' she found many of the images on the internet were caricatures of overall-wearing old men; and there were very few women.
So she set off on a mission to find out what farmers really looked like, and has produced a gloss coffee table book with a fascinating array of images demonstrating the range of appearances and experiences.
At the Australian Women in Agriculture conference she told some stories from her travels around Australia while assembling the images for her book What does a farmer look like?.
---
Chicken idea hatched
Great ideas... Eleanor Toulmin, the co-founder of Mimic Tec.
In a quest to improve poultry farming and the welfare of the chickens, two young Victorian women are developing a robot chicken.
Eleanor Toulmin and Sarah Last have developed a hen which is designed to teach behaviour to chickens which they would otherwise learn from their hen mothers.
Hens can't be placed with chicks on commercial farms due to biosecurity issues, territorial behaviour of hens and stocking densities.
''Chicks never receive maternal care which is important for development and socialisiation, so we created little robots you put into chicken farms which teach them to eat and drink in a nurturing environment, reuslting in increasing weight gain,'' Eleanor Toulmin told the Australian Women In Agriculture conference.
She said their research indicated robot chickens would decrease mortality and increase growth rates in poultry farms.
Ms Toulmin desdcribed the approach as ''win-win'', with commercial and animal welfare advantages.
Their Mimic Tec company is still running prototype trials on farms around Australia.
---
Fascinating insight
Michelle Scott Tucker.
Australian pioneer John Macarthur once graced the $2 note in acknowledgement of his role in developing the early wool industry, but the role his wife Elizabeth played has sometimes been overlooked.
She married the English army officer in 1788 and they migrated to the new colony of NSW in 1790 on the second fleet; she was the first wife of an officer to make the voyage.
While John Macarthur took credit for establishing the Australian wool industry, it was practical Elizabeth who managed their holdings while dealing with the results of John's manias: duels, quarrels, court cases, a military coup, long absences overseas, grandiose construction projects and, finally, his descent into certified insanity.
Writer Michelle Scott Tucker researched Elizabeth's role in the fledgeling industry and uncovered a fascinating story which has been historically glossed over.
Elizabeth Macarthur endured privations and hardships, including the loss of an infant baby on the voyage to NSW, long periods of her husband's absence from the farm, threats from an uprising in the colony, famine and a patriarchal society which gave a woman little authority.
The property established at Camden (formerly Cowpastures) still operates as a farm today.
Michelle Scott Tucker's book Elizabeth Macarthur — a Life at the Edge of the World is from Text Publishing and is available now.