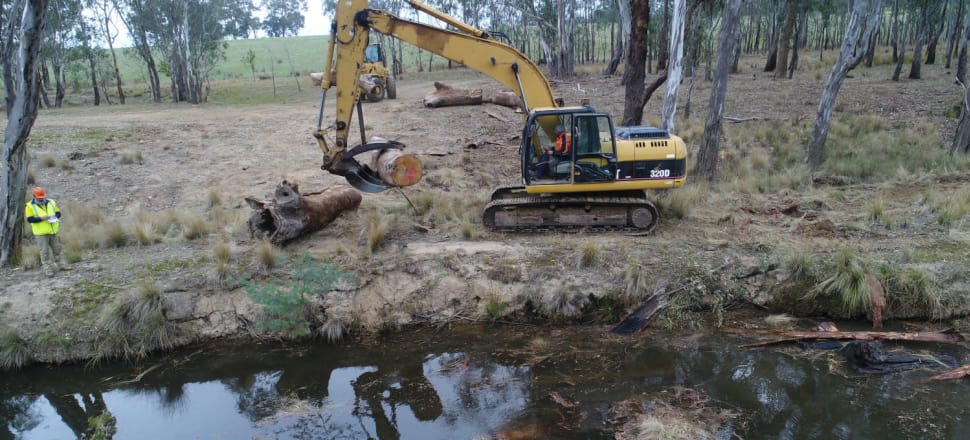 5370537724001
Large woody debris is being placed back into the Goulburn River after the waterway was desnagged more than 50 years ago.
The stretch of the river beside Mitchelton Winery at Nagambie was cleared of snags because it was believed the river logs caused flooding.
Collin Tate from Goulburn Broken Catchment Management Authority said it was time to right the wrongs of the past.
''This part of the river was desnagged back in the '60s because there was a lot of misinformation at the time,'' Mr Tate said.
''They pulled all the snags out of the river, put them up on the banks and burnt them. So now we're putting them back in,'' he said.
The snags, donated by VicRoads, provide habitat and food for native fish including Macquarie perch and trout cod.
''They also provide much-needed safe harbour for young fish when there are predatory birds around. It gives them somewhere to hide,'' Mr Tate said.
The resnagging project has been welcomed by the river's traditional owners, the Taungurung clans.
Taungurung's Shane Monk said he supported all environmental work which attracted native fish back into the river.
''It's crucial we do this work because we've lost so many native fish. The only way to increase the populations is to provide habitat, which the logs do,'' Mr Monk said.
He said he was involved in a similar project at the Seven Creeks outside Euroa, which yielded immediate results.
''I couldn't believe it. After only three weeks of the logs going into the creek, we found Macquarie perch living in the logs.''