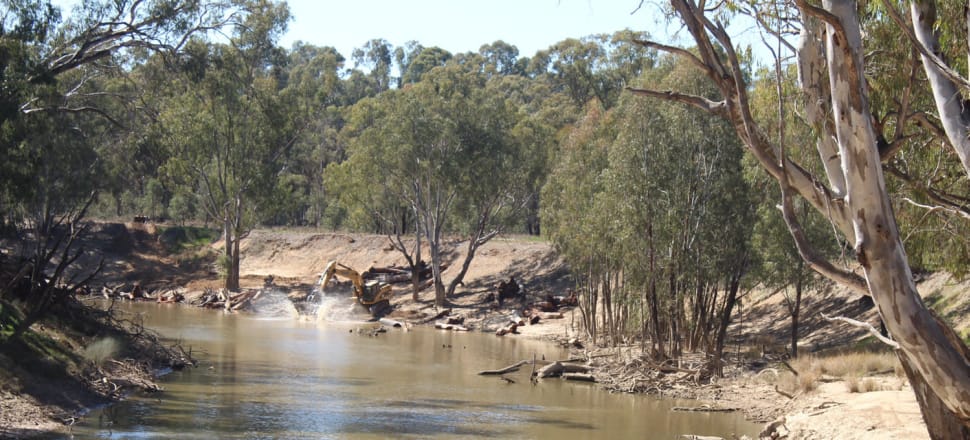 5370537724001
The Goulburn Broken Catchment Management Authority has said additional funding and support was being explored to develop a new lower Goulburn River flows study and long-term environmental monitoring program to investigate the effects of unseasonal high flows on river banks, water quality, native fish and vegetation.
Greater Shepparton City Council said scientific evidence was likely to be needed as a next step to assessing any damage to the Goulburn River's banks.
This year, a holistic review into the impacts of running commercial water down the river in summer was endorsed as a resolution at the national conference of the Murray Darling Association.
Goulburn Broken CMA has in the past month facilitated a number of meetings with key water management agencies, including DELWP, Goulburn-Murray Water, Murray-Darling Basin Authority and the Victorian Environmental Water Holder to discuss the effects of high unseasonal flows because of water trade transfer.
Goulburn Broken CMA chief executive Chris Norman said the meetings aimed to address concerns about the environmental impacts of the high flows in the lower Goulburn River between January and May this year and the real prospect of similar unseasonal flows during summer 2018-19.
He said one action already started included DELWP's review of the Goulburn to Murray trade rules, due to be completed by 2020-21.
Mr Norman said G-MW was consulting with lower Goulburn irrigators on the impact of transfers of traded water above 3000Ml a day (the current limit).
He said resources were also being looked into to help work with local government and industry to review land use planning to promote sustainable agricultural development in this region and to investigate other delivery paths for downstream water transfers, for example looking at adapting existing, or developing new, irrigation infrastructure.
Council chief executive Peter Harriott argued the environmental considerations of the river needed to be front and centre and the need to ''run water down there'' considered.
''We all need to recognise that the Goulburn River is... our heritage river... that needs to be protected as a natural feature... (as) a conduit for major economic development,'' Mr Harriott said.
''It's a balancing act and council fully supports irrigated agriculture... it's a balance, we must get the environmental solution right, so we can have optimal extraction from the irrigated agriculture.''
Mr Harriott said unlimited volumes of water could not be run down natural river systems, if it was damaging the ecosystem within it.
Cr Dennis Patterson had this year voiced concern longer periods of higher water in the Goulburn River was causing significant damage to river banks and habitat.
In calling for action to be taken, he and the council moved a motion at the MDA national conference that pushed for water ministers and water authorities to investigate environmental impacts of running commercial water down the Goulburn River during summer periods.
—Thomas Moir