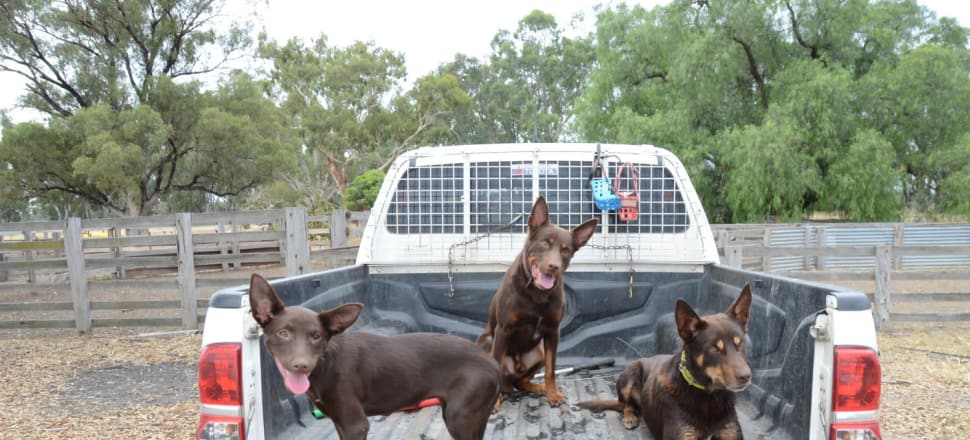 5370537724001
On a farm on the Shepparton side of Euroa, you will find Elders Euroa agent Joe Allen and his three kelpies - Choc, Ken and Polly. The two older dogs, Choc and Ken, have had their fair share of accidents but that doesn't stop them from being a good working combination. The dogs make Mr Allen's job easier, and when they are not working Choc is definitely fond a swim.
What are their personalities like?
Choc is the biggest personality of the bunch. Ken is like the little brother. He lives in the shadows. I'm still figuring her (Polly) out. She definitely has a bit of spunk about her.
Where did the dogs come from?
Ken and Choc we bred. The family bloodlines go back 30 years. They are half-brothers. Polly I got from Tom Austin at Elfinvale Kelpies.
Are they paddock or yard dogs?
Choc is the paddock dog of them all. Ken is more of a yard dog. He has an obsession with jumping on the sheep no matter where they are. They have a pretty good working relationship.
Do they have any unusual habits?
Choc splashes in the water (trough) like he's fishing all the time. Ken's weird habit is he makes eye contact wherever you are. He has a real consciousness of what you're thinking or whether you're happy or not.
Have they ever had any accidents?
Choc and Ken have fell off bikes a couple of times in near-death experiences. Choc ran through a wasp nest and got stung by about 10 of them. He healed pretty quickly.
Do they like to travel?
They love the back of the ute and the bikes. They know it's show-time when the bikes come out.
What would you do without them?
It would make things a bit harder. I'd lose a lot more time. In the Shepparton yards in spring I wouldn't get much sleep (without them). I'd nearly have to be there the night before.