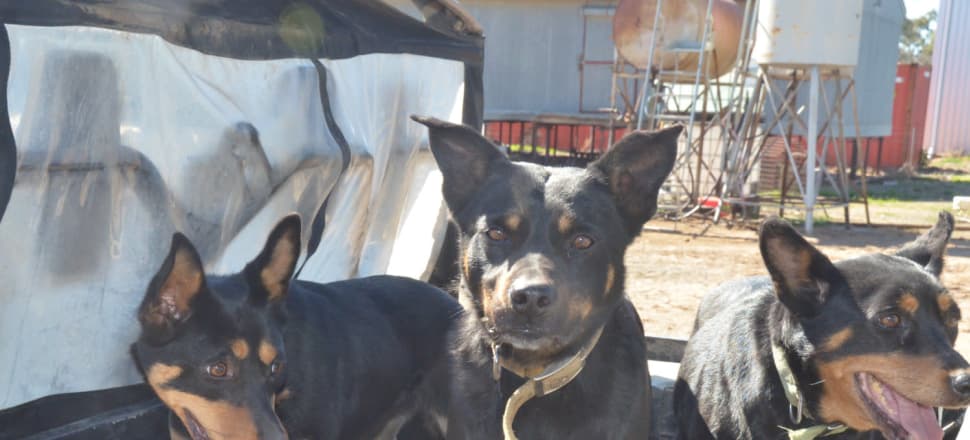 5370537724001
Sheep and cropping farmer Josh Buerckner has three very energetic dogs on his Tungamah property. Turbo, Dot and Ella are at different stages of life but Ella, 14 months, looks like taking after her mother Dot, and Turbo, who are both all-rounders. Overall the dogs are like any other, but each of them has individual quirks — although all dislike thunder but love travelling and chasing cars.
How did they get their names?
I brought Turbo from Jerilderie (so he already had a name) and the kids named the rest of them.
What are their personalities like?
They are friendly dogs that want to help you all the time. You can take them anywhere and know they aren't going to snap at anyone. Because we have young kids they are good around kids. They love a pat. But they all have their moments though, like all working dogs.
Are they any good at working?
Turbo is my main dog. He's an all rounder — good in the paddock and in the yard. Ella is still learning the trade but I think she'll be all right. Dot is getting a bit long in the tooth but is good at anything in the paddock and in the yards.
Do they have any quirks or fears?
Dot doesn't like cats. We have a cat and she's always after it. They do have a tendency to chase cars. They hate thunder. You can't get them out of the kennel during a thunderstorm. Turbo hates water when it comes out of a hose. When Turbo jumps on the back of the bike, if there is too much loaded in the back he'll jump straight out.
Do they love to travel?
They love it. They love coming to work. If they could come every day, they would. I do most of my sheep work on the bike so they know something's going on if it starts.
What would you do without them?
I'd be lost without them. In the sheep yards, if I didn't have them, I'd be in all sorts.
Words and pictures: Rodney Woods