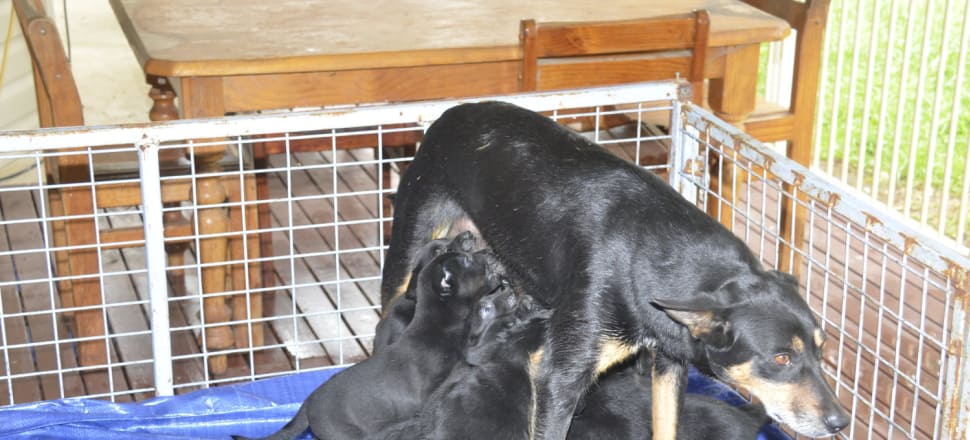 5370537724001
Invergordon dairy farmers Mike and Jenni Enever have one terrific dog. The only problem is she will only work for Mike and will only ride on one motorbike — the fourwheeler. Recently, Skip had a litter of nine pups. The only issue is some of the pups look like Newfoundlands, a breed of dog the Enevers used to breed but was not the intended father. Despite amazing everyone, Skip is not without her quirks.
Tell us the story of how you got her.
Mike: We had a kelpie and it died. Basically I got cranky getting in the cows and I'd waste two hours getting them in. So Jenni said, ''Why don't you get another dog?'' — and I said, ''no, I'm not getting another dog''. Then I saw an ad in the Trading Post and we went to pick her up. We got her and put her in the car and she vomited, so that was a good start.
The first day she got on the motorbike and got tangled in an electric fence and that was the end of that day. The second day she got kicked in the head by a bull and that was the end of that day. The third day I took her up, not sure she would want to do it again, and I haven't had to get the cows in again — she does it for me.
Who is the father of the pups?
Mike: A kelpie-border collie cross is the father, but some of the puppies look like being Newfoundlands.
Jenni: We're all taking bets.
Are there any commands that Skip doesn't respond to?
Mike: My young bloke Brad was getting the cows and calves in and Skip generally gets them to the gate. (On this day) ... he said to Skip, ''get hold of that calf'', so Skip pushed it (so far) that it turned up two days later. In other words, ''get hold of them'' is not a command for Skip.
What is she like with the cattle?
Mike: She's pretty good. Skip loves the calves. She's very possessive of the calves. I think she talks to them. She will sit next to them and lick their noses and eyeball them and I think she is telling them 'when you grow up, I'm the boss'. She's like the pig in Charlotte's Web.
Is she a one-man dog?
Mike: Yeah, most definitely, and if the motorbike gets serviced, she won't go anywhere, she'll stay home. She's a one motorbike dog as well. Safe to say, we don't get the motorbike serviced very often.
Does she have any quirks?
Mike: She has to have the radio on in the car and will tap you if it isn't. She seems to like listening to the football.
Words and pictures:
Rodney Woods
■Do you have a dog or dogs you'd like to nominate for Man's Best Friend? Phone Rodney the Dog Man on 5820 3259 or email him at: rodney.woods@countrynews.com.au