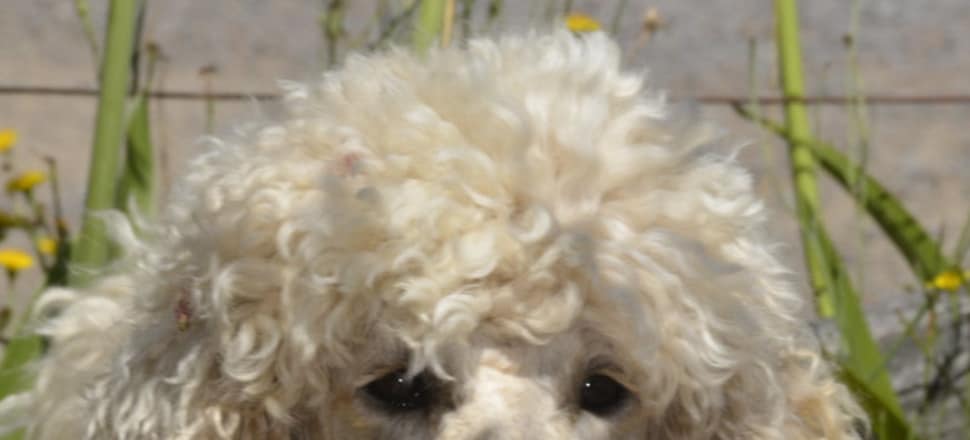 5370537724001
With five alpacas, two dairy steers, nine geese, four chickens and 20 guineafowl, Ann and Jamie Laherty-Hunt have their hands full on their Ruffy property. Keeping them company is Millie, a 31⁄2-year-old poodle. Millie enjoys looking after the other animals — even when the geese get protective of their new goslings — and she has also saved her owner from a frightening incident with a kangaroo.
What is Millie's personality?
Ann: (Jokingly) She hates people, as you can tell. She can be a bit reserved until she knows someone. She likes to be in your company, she likes to be around you.
How does she get on with all the animals on the farm?
She is very maternal. She looks after the birds and cats. She is very caring of little animals, except rabbits — she tries to kill them.
Does she do any farm work?
When my husband Jamie is out working, she will follow him. The golden retriever wouldn't leave the porch. She's (Millie) the farm dog. She breaks up fights between guineafowl. When we are bringing the alpacas in, she doesn't help, she gets in the way.
How does she sleep?
She always sleeps on her back and has to have her head higher or lower than her body.
Tell us about the incident with a kangaroo.
Jamie was at Hughes Creek with them (the dogs) and called them back and heard this thump. Next thing he knew, he was pinned to the ground. He couldn't get it off ... the dogs pulled at a leg each until the kangaroo got distracted and let Jamie go.
What do you feed her?
In the morning dry food and in the evening beef, vegetables and rice all mixed together.
What would you do without her?
I don't know. I'd have a lot more time on my hands with all the grooming. It would be quiet without her. It's a bit boring when she's not here.
Words and pictures:
Rodney Woods
■Do you have a dog or dogs you'd like to nominate for Man's Best Friend? Phone Rodney the Dog Man on 5820 3259 or email him at: rodney.woods@countrynews.com.au