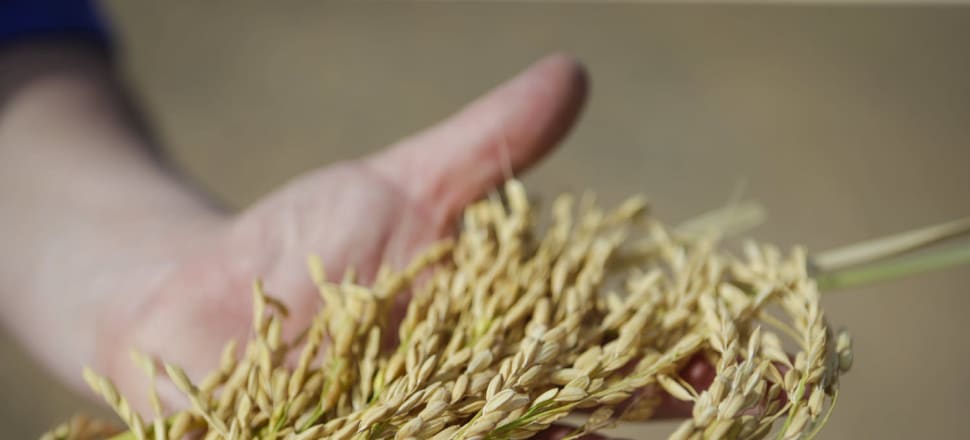 5370537724001
Farmers who have not grown rice in years due to high water costs and low allocations are considering growing the crop this season as a result of improved seasonal conditions and a competitive rice price.
Moulamein farmer Jeremy Morton has not grown rice in two years, but said he planned to do so this October.
"Water availability is still tight but seasonal conditions have improved," he said.
"I've managed to carry over water at prices that make sense economically, which hasn't previously been possible.
"It will really come down to where allocations go by the end of the selling window at the end of November — if improved rainfall occurs, then we can expect to see increased rice production."
To encourage plantings, SunRice has announced fixed price contracts for the 2021 Riverina rice season.
Reiziq has been offered at $475 per tonne, Doongara at $525/tonne and Koshi at $625/tonne.
Ricegrowers' Association of Australia president Rob Massina said with the release of SunRice's contract prices, there was optimism around the potential to grow rice.
"The water resource has built gradually, there is a small allocation in the NSW Murray region at two per cent and some supplementary water events have occurred recently," Mr Massina said.
Mr Massina plans to grow rice north of Finley this year, but said temporary water prices were still difficult.
However Finley mixed farmer Cameron Robertson said SunRice's prices needed to be higher.
He hasn't grown rice for two years.
"A lot of people have winter crops in and the price isn't enough to get people to grow rice," he said.
But Mr Robertson said he would consider growing rice this year, depending on water allocation.
"Our business needs a 30 per cent allocation by October — in the last two years we had a three per cent and zero per cent allocation," he said.
Deniliquin grower Bill Holden said the price of Reiziq was $750 in 2019 and he had hoped the prices would be higher than $475 this year.
"I thought the prices might have been a little bit higher, but I know they can only do what they can do," he said.
Mr Holden has not missed a year of producing rice since 1972.
"At the moment, we're not much better off than last year, with only two per cent water allocations, last year was zero," Mr Holden said.
"I used to grow 600 ha but at this stage I'm growing 100 ha — I hope we can get more rain in the catchment and more water allocations."