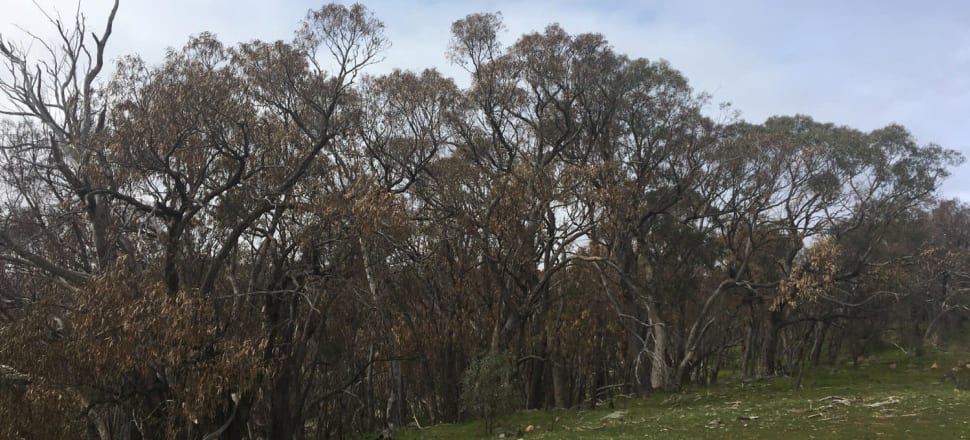 5370537724001
Large sections of native gum trees are dying in the Strathbogie Ranges.
A state-funded pilot study has been instigated by Goulburn Broken Catchment Management Authority to find out the scope of the tree deaths and to begin investigations into the cause.
Climate change or dry seasonal conditions may be responsible for the phenomenon.
"This could be the 'canary in the mine' effect; a warning for us," Goulburn Broken CMA chief executive officer Chris Norman said.
Professor Stefan Arndt from the University of Melbourne, who will lead the pilot study, has been startled by the discovery of apparently dying trees in the ranges.
The plant physiologist told a seminar last week that very little was known about why the eucalyptus trees were under stress but it could be related to drought.
He said one of the possible causes of the stress could be hydraulic failure, in which the arteries that carried moisture up the trunk of the tree became blocked.
"Often we find individual reports of tree mortality but in this case we have seen hectares and hectares of trees which are looking dead.
"It's multiple patches of forest within the Strathbogie Forest that we have been alerted to by people and the CMA. Most of these areas are on granite outcrops, the ridges and areas with granite boulders.
"The extent of this mortality event is staggering. We need to understand which species are impacted, but we are also looking at other ecosystem traits. Is it density, or age of the trees? So far, what we've seen, it is everything that has lost its canopy.
"A critical point is the ability of the forest to recover. Is this just the outer canopy affected so that it may recover, like after a fire event?
"Perhaps the forest and the trees are more resilient than we think.
"We have't done image analysis yet but we can get those from Landsat and we can pinpoint when the event happened."
Prof Arndt said he hoped to have some answers in about six months' times when they would also know if a bigger study was required.
Mr Norman said the authority had been working with the Tree Storey Working Group at Strathbogie looking at climate change when the significant incidence of die-back was brought to their attention.
Ruffy resident Janet Hagen said her initial concerns grew out of monitoring the health of paddock trees. When landholders looked further into the state of trees along the ridges they noticed a decline in health, particularly after a heatwave last year.
Ms Hagen, a Landcare facilitator, said they were concerned about areas at Longwood East, Mt Teneriffe, and the Garden Range.
"I've talked to farmers about it and everyone is quite concerned.
"I don't know whether we can do anything about it, but it is a general concern to Strathbogie landholders."
Residents can nominate dead tree areas on a map online.