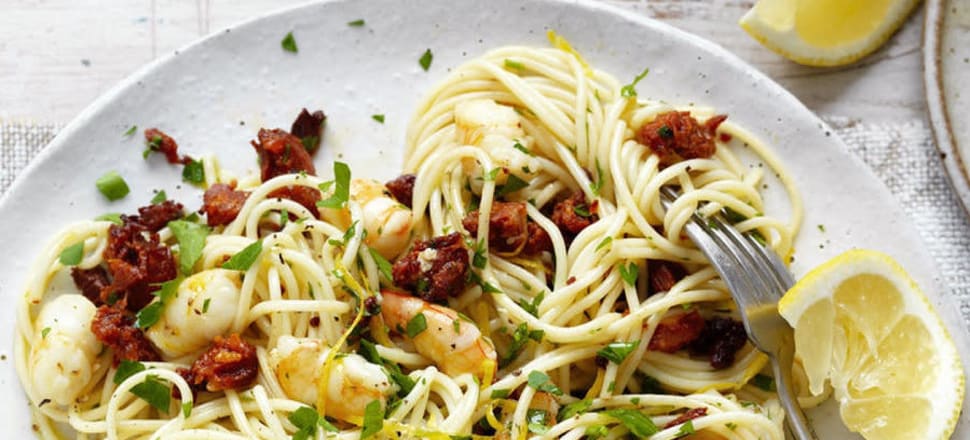 5370537724001
Ingredients:
250 g Australian pork chorizo sausages, casings removed and filling roughly chopped

400 g spaghetti

1½ tbsp olive oil plus extra to serve
4 to 5 garlic cloves, finely chopped
500 g green king prawns, peeled and flesh roughly chopped
1/3 cup dry white wine
2 tbsp finely grated lemon rind
1 cup flat-leaf parsley leaves, finely chopped
Lemon wedges, to serve
Method:
Cook spaghetti following packet directions. Drain spaghetti and return to the pan.
While spaghetti is cooking, place chorizo fillings into a small processor. Process until roughly crumbed.
Heat two teaspoons of oil in a large frying pan over medium to high heat.
Add chorizo and cook, stirring often, for three to four minutes until crispy. Transfer to a plate lined with paper towel.

Wipe excess fat from the pan with paper towel.
Add one tablespoon of oil to the frying pan and heat over medium to high heat. Add garlic and prawn meat and cook, tossing, for one to two minutes until just cooked through.
Add wine and cook until bubbling. Toss through lemon rind.
Add chorizo, prawn mixture and parsley to spaghetti. Season to taste.
Toss to combine over low heat until hot and well combined. Drizzle with extra virgin olive oil and serve with lemon wedges.

Source: Australian Pork