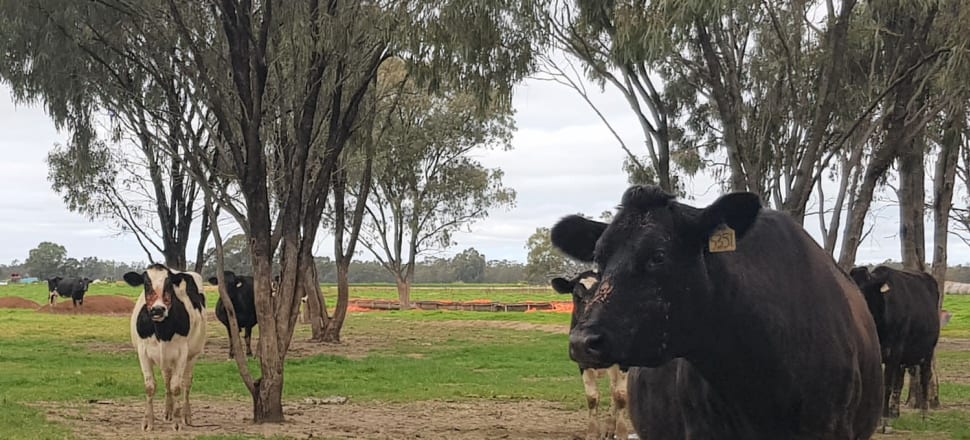 5370537724001
Organic farming has opened a world of premium prices up to Australian farmers.
However, questions have been raised over the fairness of one common industry practice after several farm workers spoke to Country News about routine rule breaking they witnessed on an organic dairy farm in northern Victoria.
These workers expressed concern about cows being fed large amounts of non-organic grain and by-product from a nearby fruit and vegetable processor on a regular basis.
All this was done with the approval of the farm's certifying organisation, NASAA Certified Organic (NCO), who are meant to police the organic farmer's conduct.
According to the National Standard for Organic and Biodynamic Produce (the Standard) an organic animal's annual diet must be 100 per cent organic.
The Standard was introduced by the Federal Government in 1992 to ensure fair competition in the marketplace.
According to the Standard, the only exception to this 100 per cent rule is if organic feed is "unavailable", then the farmer can apply to their certifying organisation to use non-organic feed as long as it "constitutes no more than five per cent of the feed ration".
This practice of giving farmers leeway around a written rule is known as a derogation — and it has created a dangerously unsupervised grey area which hurts farmers doing the right thing and customers who believe they're buying a true organic product.
The workers on the northern Victorian dairy farm allege the farmer was using the five per cent leeway in the Standard as a loop-hole.
Duncan (real name withheld to protect the identity of the dairy farmer) worked on the farm for two years, and before that worked on organic farms in New Zealand.
Duncan said the non-organic feeding on the farm had gone well above the five per cent.
"The farm manager walked off in December because he'd had a guts full of it," Duncan said.
"They are feeding well over 20 tonnes a day … non-organic foods like carrots, beetroot and tomatoes."
Duncan said he'd raised the issue with NCO on at least two separate occasions, including sending the organisation photo evidence, but no action was ever taken.
NCO said it was not aware of any complaints lodged against the dairy farmer in question.
NCO general manager Tammy Partridge said the certifying organisation was aware the farmer was feeding out the by-product.
"[The by-product] has been approved through derogations in accordance with the Standards," Ms Partridge said.
When asked if the dairy farmer was allowed to be feeding more than five per cent non-organic to his cows Ms Partridge said "no, the derogations are only as per the Standards".
NASAA Certified Organic is the oldest organic accreditor in Australia.
One of the by-products, beetroot, was tested by workers for chemical traces.
Duncan said the test found a chemical prohibited by the NCO.
Country News reached out to another former worker, Fred (not his real name), and two others involved with the farm to verify the details in Duncan's account.
Fred said he'd left the farm because the blatant feeding of non-organic by-product on the dairy farm was making him "uncomfortable" and he didn't want to be caught in any "grief" when the misconduct was revealed.
"Apart from the use of by-product it was a great job and [the farmer] was a great person to work for," Fred said.
"But it was uncomfortable in the end because we tried to say he shouldn't be doing this and interfere, but we wanted to keep our jobs.
"He always said he'd get it [the by-product] approved."
The by-product being fed on the dairy farm comes from Echuca-based processor Kagome, which grows and sources tomatoes, apples, beetroot, pears and carrots.
Kagome chief executive Jason Fritsch said Kagome had never claimed its by-product was organic.
According to Kagome records, the dairy farmer in question collects about 10,000 metric tonnes of by-product (wet) per year from Kagome.
Former workers estimated there were 500 cows on the dairy farm at any time — around 300 of those milking cows.
According to the Federal Agriculture Department, a milking cow will eat three per cent of her body weight in dry matter each day.
At a generous estimate, the dairy farm's 500-head herd eats in the range of 18,000 tonnes (wet) per year.
Duncan said when the wet by-product was delivered, the dry matter content would be worked out and it was this number which got recorded and reported to NCO.
For example, if a tonne of carrot pulp was delivered and fed out on the farm, only 142 kg of carrot pulp would be recorded and reported.
According to a comprehensive guide put together by California Certified Organic Farms, carrot pulp is 14 per cent dry matter, apple pulp is 16 per cent dry matter, grains are 80 per cent dry matter, wet beet pulp is 17 per cent dry matter and tomato pulp eight per cent dry matter.
Fred said the dry matter versus wet matter calculations were "always the grey area".
"But the tonnage we were feeding … if you have any experience feeding livestock you know the wet was too much," he said.
"The by-product was making up a huge proportion of what we were feeding the cows.
"There was some grain as well that wasn't organic … I worked out it wasn't adding up.
"I'm a big believe that if an organic cow is producing organic milk, none of her diet should be non-organic, otherwise it is false advertising."
A neighbouring dairy farmer who spoke to Country News said the farmer in question was in the process of switching between certifiers — from NCO to a younger group called Southern Cross Certified (SXC).
SXC said it was not able to comment on client affairs due to government regulations, but confirmed the dairy farmer in question was certified with SXC.
This means the farmer under scrutiny is currently answering to two certifiers.
The neighbour, who is a close friend of the farmer in question, said "while it looks bad, it is what it is" of his friend's behaviour.
"His operation is bloody huge. He can feed something like well over 1000 tonnes of by-product and not make a dent," the friend said.
The neighbour said conventional dairy farmers were "jealous" organic dairy farmers were paid more for their milk, and were tough on organic farmers if they fed anything less than 100 per cent organic.
"They whinge organic farmers get a premium price and they think he should only feed organic," the neighbour said.
Someone who didn't work on the organic farm but was often on the property said they'd witnessed numerous truckloads of non-organic product being dropped off on the farm, including carrots, apples, grapes, beetroot and mud which was washed off and spread in the paddocks.
"I witnessed numerous meetings between the farm owner, the farm manager and workers where nobody wanted to feed out these products because they were non-organic feed," the visitor said.
"They used a lot of non-organic feed on a certified organic farm. The grain and silage were not organic. The grain was fed to milking cows two times a day, every day."
A third farm worker who was employed for a shorter time than Duncan and Fred said he'd attended meetings between the farmer, farm manager and other workers at the start of the year where no-one wanted to feed out the by-product.
"I was told by the farm owner that I had to feed it out to the cows … I felt my job was on the line. I wanted nothing to do with the non-organic feed," he said.
"I've witnessed numerous truckloads of fruit and veg in the feedpad and non-organic mud being dumped into the paddocks."
Former worker Fred said the five per cent leeway in the Standard opened up too much room for doubt and interpretation.
"You could easily lay the blame on the powers that be too, it isn't always the individual supplier at fault," Fred said.
"This is a huge can of worms."
NCO was asked several questions about feed derogations and if the practice put the reputation of organic produce in jeopardy, but NCO gave no comment beyond saying feed derogations were used during periods of drought.
Both NCO and Southern Cross Certified have been notified about the allegations.
The farmer in question declined to give comment.