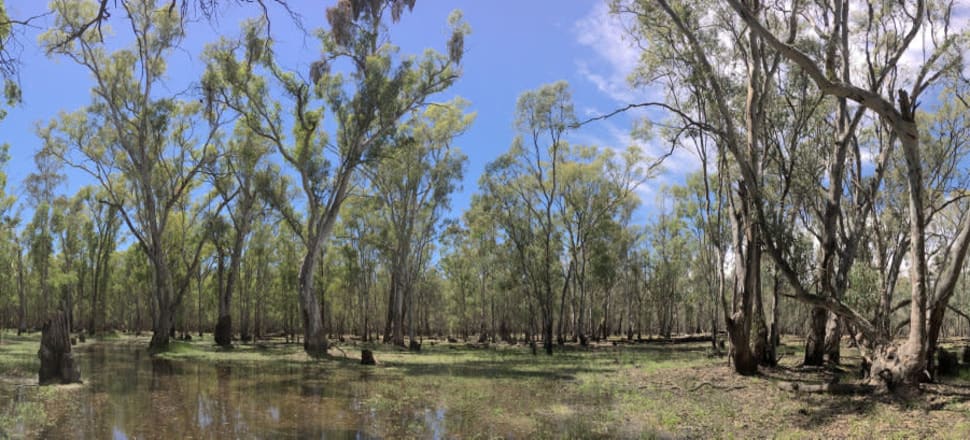 5370537724001
The impact of water for the environment has been revealed by more than 16 years of monitoring across the Gunbower Forest floodplain.
Since 2005, the North Central Catchment Management Authority has been supplementing natural flooding with targeted water for environment programs.
Botanist Kate Bennetts said she had been monitoring Gunbower's vegetation for the past 16 years, with positive results.
"At the river red gum monitoring sites that did not flood between 2005 and 2020, less than half of the trees were in 'healthy' condition," she said.
"At the river red gum sites that naturally flooded over this period, the trees were in slightly better condition with almost 60 per cent assessed as 'healthy'.
"However, the trees in the best condition and which improved the most over the monitoring period were in the river red gum sites that were both naturally flooded and delivered water for the environment.
"Seventy-five per cent of trees in these more regularly flooded sites were considered 'healthy'."
Ms Bennetts said the floodplain suffered from lack of rain recently, as well as during the millennium drought.
She said the floodplain flora also responded positively to water for the environment.
"There is a flush of growth with the water, followed by a drying phase where many plants wither back to their root stock and seed bank, only to emerge again the next time it floods.
"Furthermore, we recorded more aquatic plants in the wetlands after delivered water for the environment than after natural flooding."
Ms Bennetts said reinstating watering events to parts of the floodplain was an important part of maintaining the ecosystems and that many more factors were affecting the health of the forest.
"We need to remember the Gunbower floodplain is a modified environment, with 130 years of logging, levee, channel and road construction, weeds, pests and recreation, all which have, and continue to, alter the vegetation," she said.
North Central CMA program delivery executive manager Rachel Murphy said helping floodplains cope with a changing climate takes time.
"Recovering from more than a century of regulation and the impact of a changing climate is not going to happen overnight," she said.
"While crops can grow in a few months, it takes a long time to revive a whole ecosystem.
"Floodplains like Gunbower don't get as much water as they used to, even in wet years, and floods don't last as long as they once did."