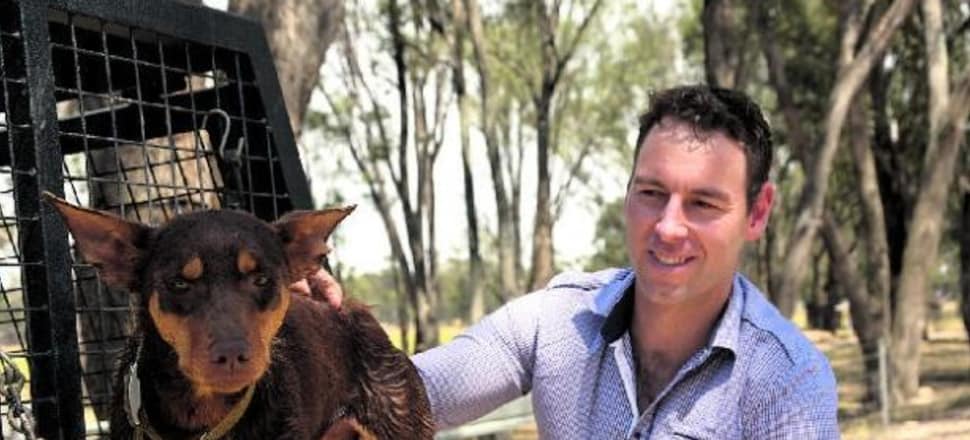 5370537724001
What's her name and how old is she?
This is Roxy and she's 14 months old.
How did you come by her?
I worked for Rabobank for five years and always wanted to get back to farming. Dad knew someone on a station north of Hay and there were some pups for sale up there for $200. We went up and picked out one each; Dad got a dog and I chose a bitch because they are cleaner and more loyal. Roxy was sitting up on a tyre as bright as day.
Did you see the parents?
Yes, both red kelpies: the father was a yard dog and the mother a paddock dog. There's a story with her.
Tell me.
Well she was a good dog and the farmer gave her to a girl who worked on the place. Then she moved into Hay and took the dog. One day he got a call to say the dog was chained up at the train station with a note that said, ''I can't look after this dog any more, sorry''.
His phone number was on the collar and he got her back — he was pretty pleased.
How did you go about training Roxy?
When she first came home she was really timid and sooky so it was about getting her confidence; she hasn't had any other dog to track along with, which would have helped.
I have to credit Wayne Lochart — or Frankie, as he's known. He's a shearer from Mansfield and is known for having top dogs. I wouldn't have been able to get her as good as I've got her without him. After shearing she was buggered but learned a lot. We plan to feedlot some lambs so she'll get a power of work there.
Has she had any health scares?
Yes, when we were marking lambs she drank some foot bath — zinc sulphate — and was frothing from the mouth and rolling around. I rushed her in and the Kyabram vets were fantastic. If you get a bad dog nothing will go wrong.
How would you describe her nature?
She's fierce, she puts in 100 per cent even though her body size is too small. She's a good companion and in the winter she likes to get inside in front of the fire and be very quiet in case she gets put out. Apart from that she never rests.
How important is a good dog to you?
She's worth two men to me: there's a lot of trees and bush here and there are places you can't get with a motorbike.
Well, from a banker's perspective, $200 was a good investment?
Very good. Best trip I've ever done.
Words and pictures:Cathy Walker