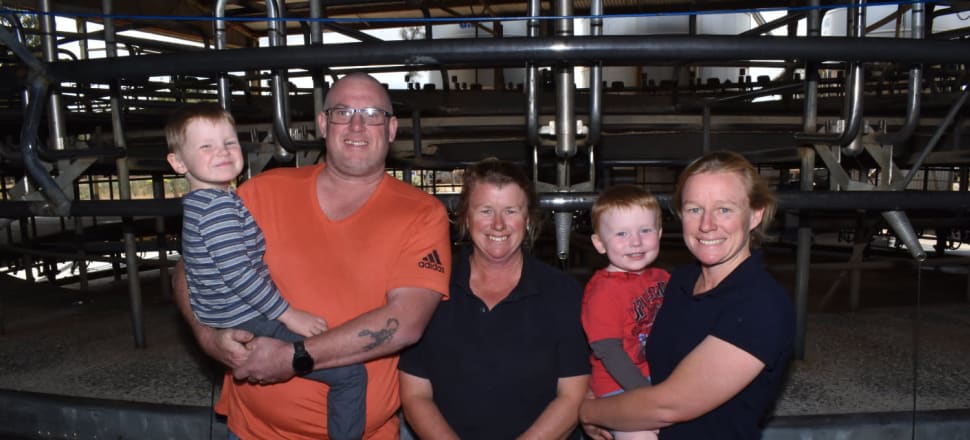 5370537724001
The Clark family has always had firm plans for a future in the dairy industry.
But like so many other farmers, they are fighting an enemy that is simply beyond their control — water.
Mum Helen and daughters Donna and Kristen milk 800 cows just outside Finley, and they estimate the effect of the Murray-Darling Basin Plan has seen 15 dairy farms out of 46 in the region exit the industry in the past 12 months.
They are hoping to make the transition from the fifth generation to the sixth, yet their business cannot continue to sustain losses like those incurred this year, which included a drop in equity of more than $700000.
Grain costs have increased from $1029000 in 2017-18 to a projected $1427000 this year, fodder has increased from $947000 to $1579000 while water costs have skyrocketed from $28500 to $286000.
A zero water allocation and a lack of rain has meant the business has been unable to grow its traditional pasture base, forcing the Clarks to use all their fodder reserves and purchase expensive supplementary feed.
Helen said in all her years of farming, this was the worst she had ever seen it.
''We have had to sell our vital replacement heifers to sustain our core herd,'' she said.
''The impact of this will be felt for years to come as we don't have the necessary replacement cows coming into the herd.''
The business currently supports four immediate families, employs four other locals, uses backpacker labour and spends its money in town and at local businesses and contractors.
''Water policy is always changing and they keep moving the goal posts all the time, making management for us extremely difficult,'' Helen said.
Kristen firmly believes there needs to be a review of the Murray-Darling Basin Plan.
''The plan is not delivering on its goal of improving environmental outcomes for the river system and its implementation is destroying local communities and the regional economy,'' she said.
''There needs to be more transparency around the inefficiency of pushing such large volumes of water to the end of the system and who is wearing the losses.
''Had the system been better managed, that would have become an allocation for NSW general security irrigators — it could have been used to grow fodder which would have relieved pressure, not only on those affected by drought locally, but also across NSW.
''It would have meant a lower water and fodder price.''
Kristen said a 10 per cent allocation for her farm would have meant $260000 in revenue that would have been generated and spent in the local community.
In a normal year the women can grow in excess of 5000tonne of feed and they normally carryover 30 per cent of the feed requirements into the next year.
This autumn they will be operating under a reduced water schedule in the hope it will take them through winter, but they are not sure what will happen after that.
''We will be reassessing our options in spring,'' Kristen said.
''There are people getting out around us and it is so bad for our community and bad for our confidence trying to move forward.''