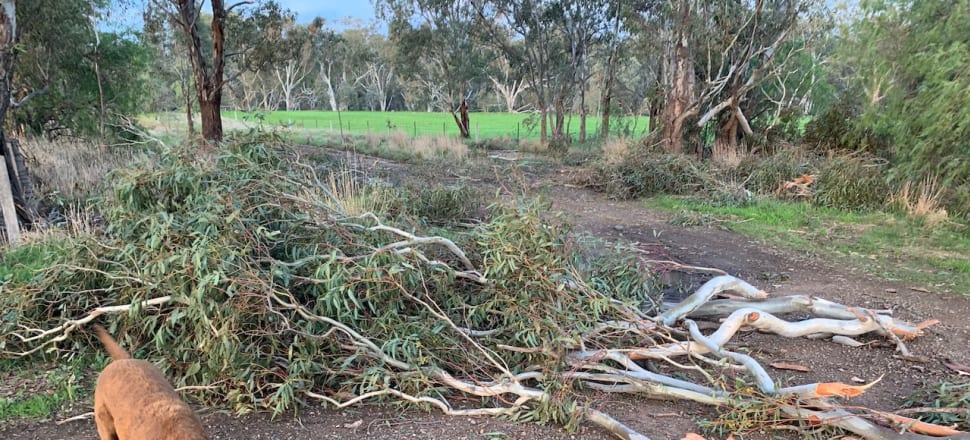 5370537724001
The Boss called it "a bit of a blow" but I tell you, it was a tornado, plain and simple.
It came in on Saturday afternoon. The Boss had a big fire going in the lounge, where he was reading the weekend papers and watching the storm build in the west.
There had been a spot of rain in the morning but he was keen to see some more.
And he did, pretty soon. "Here it comes," he said, as the wind built up, all of a sudden, into a roar.
First it pelted in from the north-east, thrashing high against the windows.
I could tell the Boss was surprised. He thought it was coming from the north-west or west. "There might be more in this than we think."
The wind was whipping across the back lawn, blowing all the dead autumn leaves out into the paddock and towards the river.
"That's handy," I heard him remark to the Missus.
Then, in the space of 10 seconds, the wind whirled right around, in the opposite direction, coming in from the south-west - and blowing all those leaves back again.
It was knocking over chairs on the terrace and branches came flying in from the redgums on the river.
The Golden Leave-it-There - always a whimp but worse in a storm - was huddled down behind the couch.
The wind backed off as quickly as it arrived and it rained for half an hour and stopped just as the power went off.
It came back on 22 hours later, around two o'clock on the Sunday.
In the meantime, The Boss had spent most of Sunday carting branches, leaves and twigs into a huge pile. He's still scratching his head about one uprooted tree - I reckon he'll leave it until next weekend to cut it up.
When he finally finished he came inside and I heard the Missus ask him how much rain we'd had.
"Barely 20 ml," he said. "Much ado about nothing."
Woof!