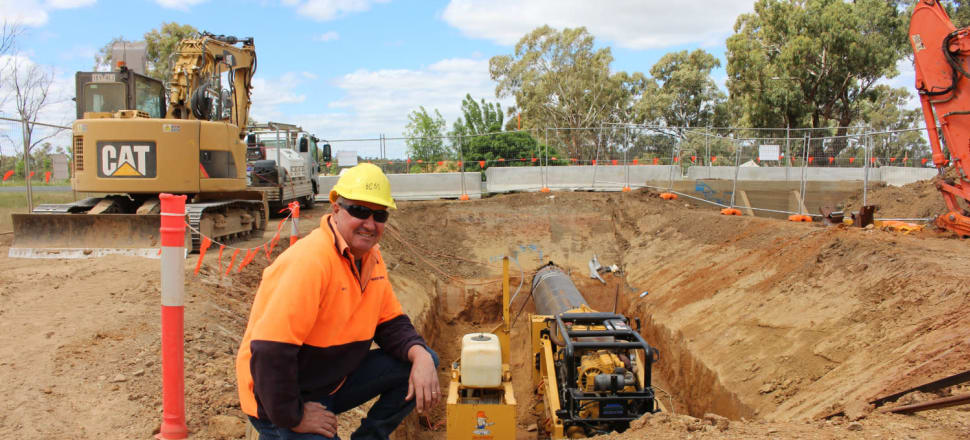 5370537724001
Twenty-seven dairy and mixed farming landowners in the Rochester Irrigation Area will soon be connected to a modernised irrigation system, transforming the way they irrigate.
The works, as part of Goulburn-Murray Water's Connections project, included the installation of 3.3 km of pipeline, decommissioning 3.7 km of ageing channel and installing 15 new, state-of-the-art meters and 20 stock and domestic connections.
The new pipeline being installed is 5 km south of Echuca and crosses over the Northern Hwy, just north of Echuca-Mitiamo Rd.
"For dairy farmers, this means shorter ordering times and better flow rates delivering water when and where it is needed, with many reporting life changing benefits," Connections director Frank Fisseler said.
"The automated system allows farmers to place water orders just 24 hours in advance and turn the water on with the touch of a button."
Customers previously accessed water supply via an open channel network and during works, water was being delivered to customers via bypass pumping.
Rochester company Ward Bros Earthmoving was contracted to bore under the Northern Hwy in preparation for the new G-MW gravity pipeline.
The works began in October and are due for completion in December.
Mr Fisseler said to date, the Connections project had decommissioned more than 1450 km of old channel; generated 344 Gl of verified annual water savings; remediated more than 300 km of channel to stop leakages, seepage and generate water savings; installed more than 8500 meters to modernise and automate the delivery system; and fully modernised more than 6800 landowners.
"Now more than 90 per cent complete, the project is on target to achieve its key objective of 429 Gl of water savings each year (long-term average)," Mr Fisseler said.
"When the project is complete, it is estimated irrigation water use efficiency will increase from 70 to 85 per cent."