News
Rochester Mural Festival winner's work features artwork of town's ex-dairy factory
By

Country News
---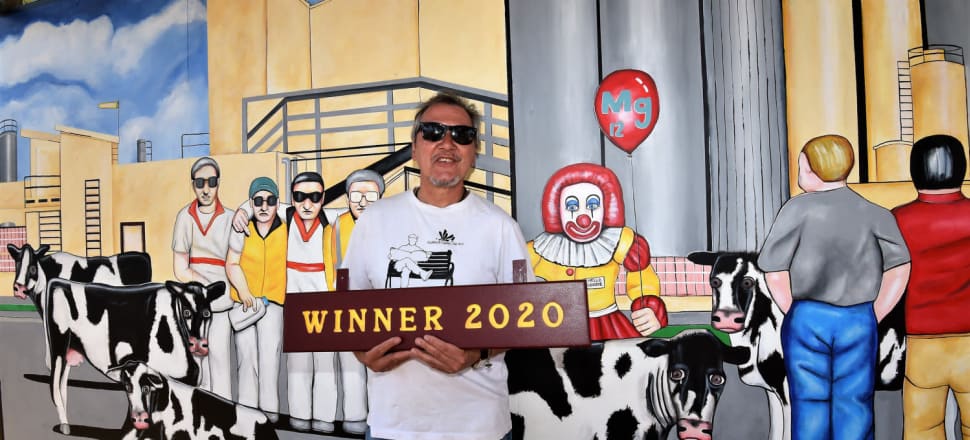 5370537724001
The Rochester Mural Festival has named its 2020 winner.
Steve Monk from White Hills was awarded the honour on Saturday, February 29, collecting his wooden winner's sign before a crowd.
Mr Monk's work featured Rochester's decommissioned dairy factory and past workers who were depicted "pondering their future" alongside the community and "unemployed cows".
"I would like to thank everybody involved, and a big thank you to Judy Anderson for providing shade, water, paints and such, and thanks to the artists — they did such great work and are great people," he said.
Highly Commended went to the Rochester-raised Bendigo artist Alicia Huddy for her mosaic-like Sunset On The Campaspe mural, praised for being "fun and gorgeous".
The People's Choice was awarded to Farming, Past, Present and Future by Murray Ross from Tongala and Echuca's Jill Conway.
Their idea to hide tiny painted toilets in their mural proved a hit on the day.
The pair was added to the festival before painting got started after the original artist, a Canadian, had to pull out due to the tough border security brought on by the coronavirus outbreak.
Festival organiser Judy Anderson said the judges did a good job deciding on their winners.
"It is a nice win this year because Steve's been a big supporter of the festival, and he's been here quite a few years," Ms Anderson said.
Festival organisers thanked the volunteers who helped.
"This is a big event and it costs us a lot of money, so thank you to everyone for you support," Peter Anderson said.
"This show wouldn't happen without the volunteers who put in a lot of work, especially early in the mornings."
The festival was first held in 2015 and now Rochester is being asked to get thinking on next year's theme.
"It's harder than you think," Mr Anderson said.
"The theme has to be very broad so artists can have their own interpretations."
The murals will stay on display all year for visitors to view.