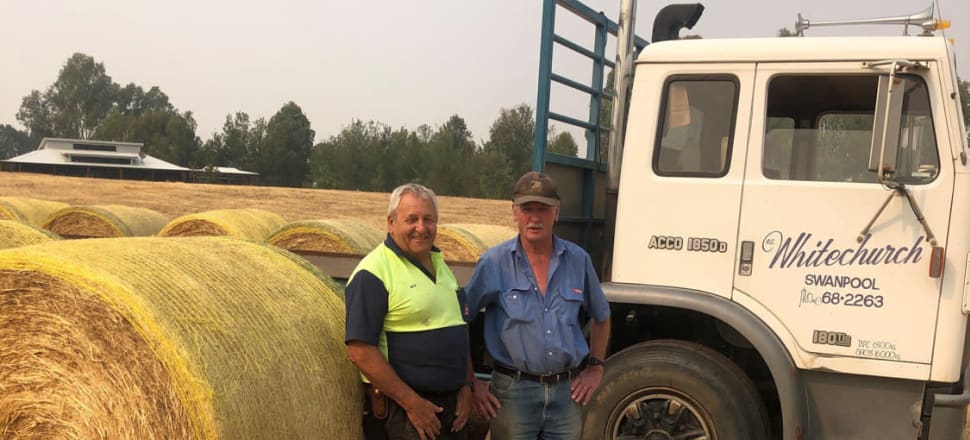 5370537724001
Benalla's Leon Meyer has been co-ordinating hay donations for fire-devastated farmers in the upper Murray region.

The former director of the Australian Professional Rodeo Association said they had donated more than 160 tonnes of hay as of January 15.

Mr Meyer said APRA was concerned about the welfare of animals affected by fire in the region, and had asked him to organise a hay run collecting donations from friends in the livestock industry.

"The response was overwhelming," he said.

"Within 24 hours we had the first loads ready to go and it has not stopped since."

Mr Meyer said he arranged trucks to pick up hay from around the district to be stockpiled at Benalla Equipment Hire's yard before distribution.

The hay has been donated predominantly to dairy, beef and sheep «« and wool »» farmers.

In fire-affected Corryong, friends of APRA put together lists of people in the upper Murray region who had lost everything, so they knew who needed hay the most.

"I've seen some accidents in my time, but there I was so devastated — it was absolute carnage, car wrecks, carcases," Mr Meyer said.

"The ones donating hay who had been affected by fire were also the last to put their hands up for hay."

However, getting the donations to those in need hasn't been easy.

"Up until Thursday (January 9), everyone heading to Corryong needed a permit to enter the fire-affected region, and a convoy with firefighters and police to supervise the load," Mr Meyers said.

"That stopped on Thursday for 24 hours so we no longer needed an escort, but then fires returned on Friday and Saturday, so the roads were shut off completely."

Mr Meyer said donors trusted where their hay was going because APRA gave them exact addresses and put them in touch with recipients.

APRA haven't been working with the VFF in co-ordinating donations, but said they would make contact with them soon.

Mr Meyer said as long as people kept donating, they would keep delivering, but he believed the worst would come in about six weeks once donations dried up.

To donate or request hay, phone Leon Meyer on 0448 194 267 or Anthony Hill (owner of Benalla Equipment Hire) on 0428 109 464.

No cash donations or silage hay will be accepted. Only hay, preferably in rolls or squares.