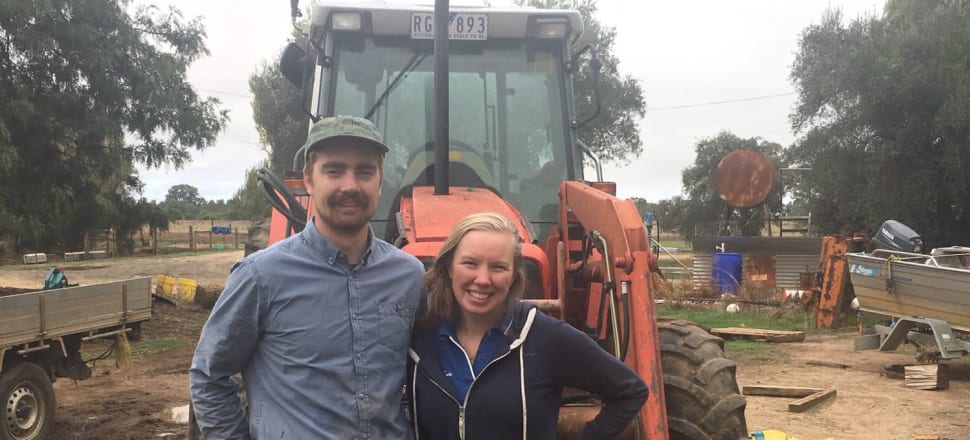 5370537724001
A social media post from Yalca dairy farmer Steve Dalitz prompted a couple working on a south-east Gippsland farm to come and help him during the trying conditions.
The post, which was written on Facebook's Show Some #dairylove page, revealed that Steve had put his farm up for sale due to the dry conditions.
Jess Mumford and Alfie Jessup visited the region, assisting farmers with machinery maintenance.
''Steve had written a post on the page saying he has just put his farm up for sale because of the impacts of drought,'' Ms Mumford said.
''This really hit home for both of us and Alfie sent Steve a message saying how sad it is to hear his circumstance and offered to donate his time.
''Like many farmers around the district, Steve didn't have any farm work available (he already had an employee who he was struggling to find work for), however Steve noticed Alfie was a mechanic by trade and asked if we would like to come up to the northern district and service his and some of his friends' farm vehicles.
''He also got us in contact with Lindy Morris from Aussie Helpers and they amazingly funded our trip and got us in contact with about seven more farms that needed tractor and farm vehicle services.''
The couple spent five days in the region, based at Mr Dalitz's place, travelling as far as Cohuna and Deniliquin.
''I think we went to about 10 farms and serviced 15 to 18 farm vehicles all in five days,'' Ms Mumford said.
''It was a pretty busy five days but we would definitely do it all again.
''We never intended to service that many vehicles but when Aussie Helpers asked if we were interested in seeing multiple farms in the region we were more than happy to accommodate.''
Ms Mumford praised the contribution of charity Aussie Helpers and the donation from Cobram Rural.
''Aussie Helpers were fantastic. They never gave us a budget we had to adhere to and they also were willing to help fund any other problems we found while we were servicing vehicles (for example, brakes and small technical issues),'' she said.
''We were also incredibly lucky that Cobram Rural donated four 20litre drums of tractor oil, which was extremely appreciated.''