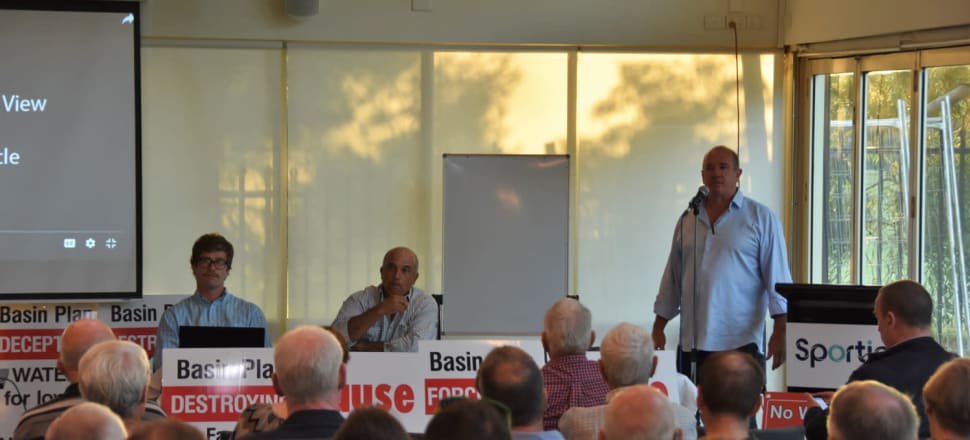 5370537724001
The Pause the Plan movement is continuing to grow, with about 120 people voting in favour of pausing the Murray-Darling Basin Plan during a community meeting in Barooga on Wednesday night.
Farmers and local business owners filled the room at Barooga Golf Club to hear the calls of Southern Riverina Irrigators chair Chris Brooks, Murray Valley Private Diverters chair John Lolicato and Wakool Landholders chair Darcy Hare to pause the plan and reclaim water for the region.
Mr Lolicato conceded a plan was needed to protect the future of the Murray-Darling but said it needed to be done in the right way.
Arguing the ''right way'' had been ignored for the past six years, which had resulted in a negative impact on basin communities, he said a pause was the only way to get the policy back on track and working the way it should.
''The plan is in place now, we've passed the crossroads and so there's no turning back,'' he said.
''People want to stop it — to blow it up altogether — but we can't. It is here and the best we can do is pause it.
''We do need a long-term plan to manage our water, but this is not our plan. The amount of damage it is creating in our region is dire.''
Mr Lolicato said politicians were turning a blind eye when it came to water management and used Barmah forests flooding as an example to show just how much water was being forced down the system for the environment.
''Our river system is collapsing and there are 35 reports discrediting the plan,'' he said.
''We've given it a fair run (since the plan's implementation) and we need to pause the plan. But it goes in one ear and out the other of the politicians.
''People say 'just weather it' — but we haven't got another five years, we have dairy farmers selling up and leaving the area each week because of the issues it has created.''
Mr Brooks said the Pause the Plan movement was focusing on grassroots action because the SRI group had grown frustrated with a lack of consultation from politicians.
''All of the work we have done here and the arguments with politicians we've had, we're finding the bureaucrats aren't listening,'' he said.
''We rely on water for everything, and while it's all well and good now, this will start affecting towns and the cities.
''Our communities are suffering. It's not just our farmers, it's our business owners and local families too.''
The campaign calls for a comprehensive review of the plan and river management by independent consultants selected by the affected communities, with terms of reference also drawn up by the affected landholders and communities in conjunction with state water ministers.
Lastly, it demands that the plan should not resume until the review is completed and agreed upon by basin communities and government.