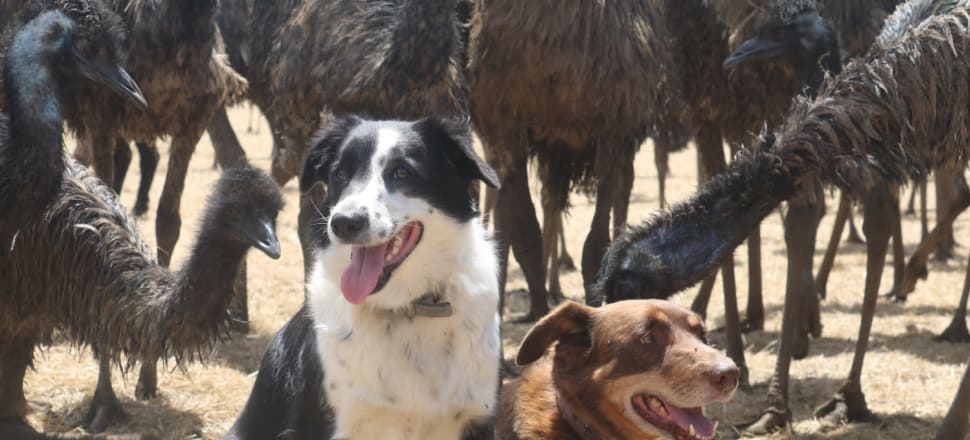 5370537724001
First came Chip, then came Charlie and then along came Emma. These three dogs all have a role to play on the emu farm of Jeff and Jane Long at Tragowel, and while Chip and Emma might be the real workers and the brains behind the operation, Charlie does have a role to play as chief buggy rider and bravest dog. Jeff says the dogs are integral to farm management, rounding up the baby emus and putting them to bed each night. Chip is such a good dog he also thinks it is his duty to spread his genetic material and working ability far and wide around the community to any willing female. One thing that is for sure, life on an emu farm is never dull and the entertainment provided by these three certainly adds to the joy of each day for Jeff and Jane.
So where did these dogs come from, Jeff?
Chip is a kelpie-cross-collie and I bred him myself out of a line of dogs I have had for years. He is about 10 and is a very faithful, knowing and intelligent dog.
Emma is a purebred border collie who came from some farmers at Rochester. She is two years old and is pregnant, carrying the next generation. This will be Emma's second litter and hopefully this next lot of pups will all go just as quick as the first lot.
Charlie is a Jack Russell-cross-foxie who is about six years old.
So, tell me a little bit about their personalities.
Jane: Charlie has small dog syndrome but he is definitely the bravest of the three. He barks at thunder and gunshots while Chip puts his tail between his legs and runs to us, wanting to be cuddled — he is such a sook. Charlie also loves riding around in the buggy and would sit on it all day if he could. Emma is the boss — she wouldn't hurt a fly but she does rule the roost.
Jeff: Chip is a great dog but he has a tracker on his collar because he is a wanderer and a ladies' man. He likes the girls and his genetics have been spread far and wide across Tragowel.
How do Chip and Emma go as work mates?
Jeff: They work really well and every night they push the emus into their pens. It only takes about half an hour but together they work back and forth. Chip is starting to get a bit of age on him but he still loves working and loves what he does — he lives to chase emus.
Where do the dogs camp at night?
Jane: They have their own 100m long dog run with their own dog houses, but for some reason we often find the three of them all in the one house. They are all good mates now and Chip secretly likes Charlie now. Every night they have their dog food with emu oil on it but Charlie gets a bit extra now to help keep his arthritis in check.
Words and pictures: Sophie Baldwin