$12.2m packing shed upgrade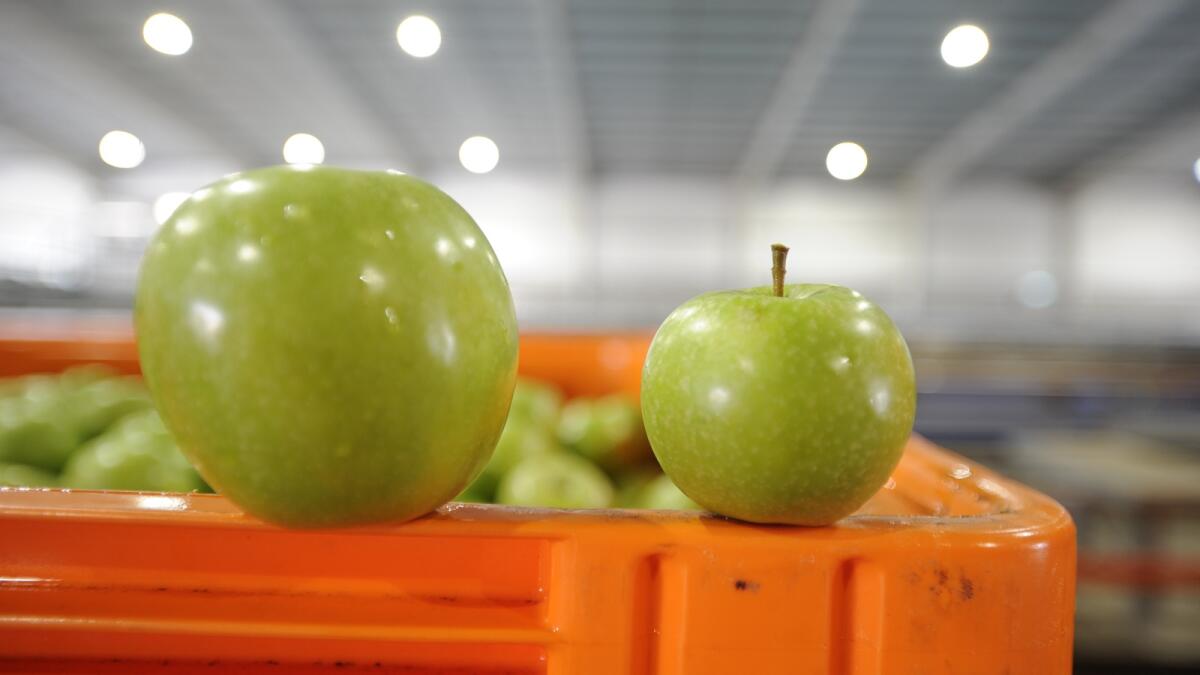 Ardmona family business Plunkett Orchards has doubled its packing capacity after a $12.2 million upgrade.
The millions were spent on two new sheds (12,000 square metres combined), an apple pre-sizing machine, two apple packing lines and a 'commit to pack' pear and stone fruit line.
The apple pre-sizing machine is the biggest leap forward for the business. It means highly specialised machinery from the Netherlands, rather than workers, sorts the apples into grades.
Plunkett Orchards general manager Andrew Plunkett said the changes had increased the job security of "everyone who's already here".
"It's quite an unusual piece of machinery (the apple pre-sizing machine). It will take 16 to 32 photos of each piece of fruit as they roll past, then it will pick the fruit up with these finger elements and weigh it," Mr Plunkett said.
The camera and weighing section is only about two metres long in a giant automated chain, but it's the most expensive part.
The apples are delivered to the camera and weighing section by a water stream, then sent to one of 45 different 'bays' or 'chutes' in a second water stream.
Water streams are used because apples float, and it stops them from being bruised — minimising bruising is one of the hardest parts of the packing process.
"Based on the size and colour, the apples will be split into 45 different categories," Mr Plunkett said.
"Each chute is a grade. Once there is 300kg of fruit waiting in a chute they will be released and flow down into a crate."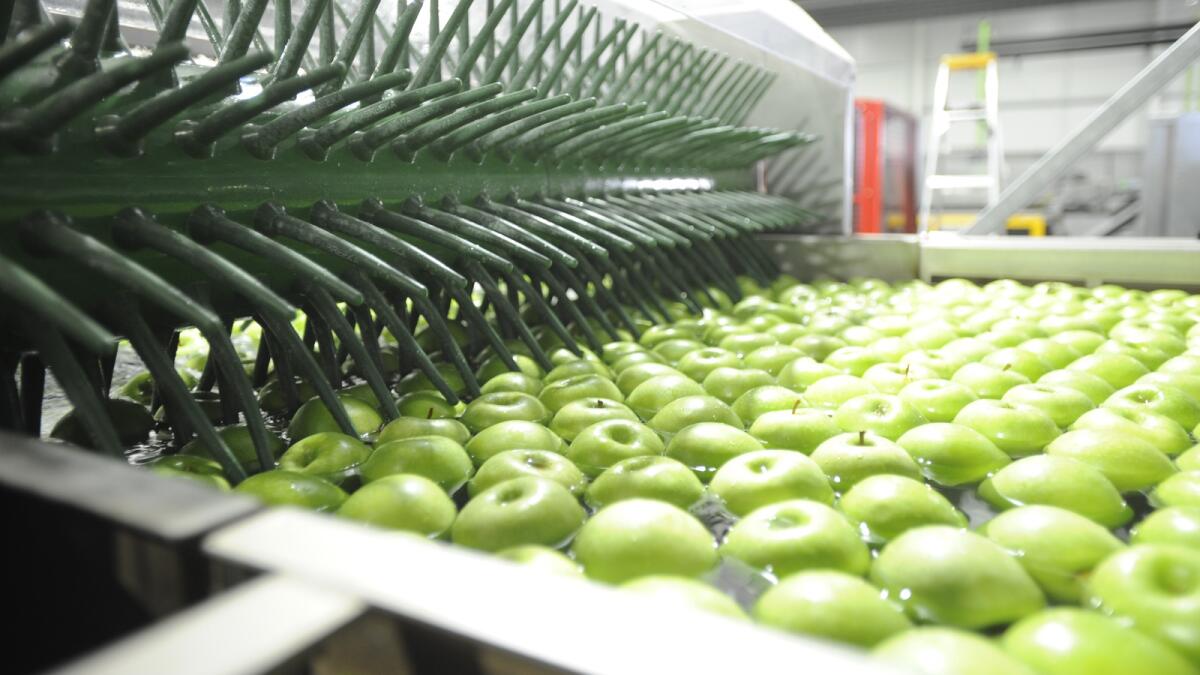 This crate is then stacked in towers of four by a driver-less forklift that runs on rail. A forklift driver will then take the towers of four to the second shed, which houses the packing lines where they'll be boxed.
The packing equipment has been running for several months now, but on March 22 a special event was organised to recognise the $1.05 million the Federal Government contributed to the project under the Regional Jobs and Investment Package.
Local tradesmen who contributed to the build also attended, including Mawsons (concrete), Ian Argus Steel Fabrication (shed), Ref's Contracting, TSE Electrical, Rankin Plumbing and Evan Lane Earthmoving.
Alongside them was GREEFA representative Dick Van De Kop, whose company created the specialised pre-sizing and packing machinery.
Mr Van De Kop said the Plunketts project was quite large and the international company would only do something on this scale about three times a year.
"I would say five years ago we started the planning (for Plunketts)," he said.
"It is fully customised and Andrew was constantly thinking about what he wanted and the possibilities."
Federal Member for Nicholls Damian Drum said the upgrade made Plunketts one of Australia's largest packing facilities and the apple pre-sizer allowed the business to supply customers with fruit tailored to their exact specifications, rather than just selling what's been packed.
Nationals candidate for Nicholls in the upcoming federal election, Sam Birrell, also attended the official opening, after being involved in the initial funding process as Committee for Greater Shepparton chief executive.
Committee for Greater Shepparton was asked to put together a list of local 'priority industries' which the $20 million Regional Jobs and Investment Package could be steered towards.
"We came up with four industries which we felt if funding was given to them, it would have a flow-on effect down the line," Mr Birrell said.
Funding was also allocated to Turnbull Brothers Orchards, J. Furphy and Sons and KY D-Pak for equipment upgrades, among others.