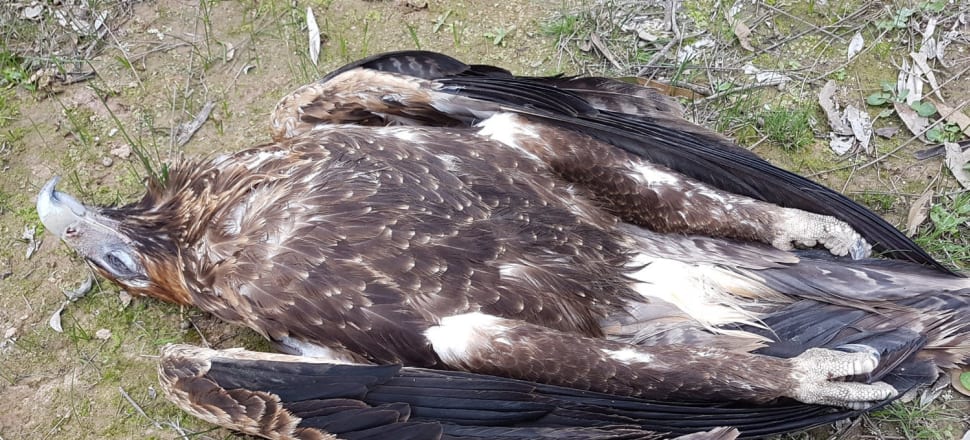 5370537724001
Authorities are investigating the suspected poisoning of 120 protected native birds, including 76 wedge-tailed eagles, after they were discovered on a property near Violet Town.
The birds were discovered after DELWP executed a search warrant at the property.
The three-day search resulted in the discovery of dead wedge-tailed eagles, kites, hawks, falcons and other native bird species.
It comes a month after several wedge-tailed eagles were found dead on Earlston properties, leading to widespread community concern.
Violet Town local Libby Woodward, who has found three eagles and two magpies dead on her property in the past six-and-a-half years, said the number of dead birds found during the search warrant was horrific.
"I'm horrified by the numbers but so pleased that the authorities are doing something," she said.
"Our property is only an environment property — we do what we do to help the environment.
"When we see the birds, it's a feeling of: 'wow'.
"It makes your heart melt seeing them, but we want to tell them to go away because we know they are going to get killed.
"We've had cameras on our ponds and dams (to monitor the bird life) and the young ones come and we see them for a couple of weeks and they disappear."
DELWP's compliance operations acting regional manager Greg Chant said investigations were ongoing.
"Carcases have been recovered from the property and will be tested to determine the exact cause of death," he said.
"The community is justifiably outraged by this incident and our investigations are continuing.
"We are now seeking information from the community to help find the people responsible by contacting Crime Stoppers.
"Reporting is confidential and we only need your information to help solve this crime."
All native birds are protected under the Wildlife Act 1975 and deliberately killing them carries a penalty ranging from $8261 to $39 652 and/or six to 24 months' imprisonment.
Those with information can phone Crime Stoppers on 1800 333 000 or visit: crimestoppersvic.com.au/report-a-crime