News
Efficiency the reason for biggest 'one-shot' deal between Kagome and Haeusler's
By

Rodney Woods
---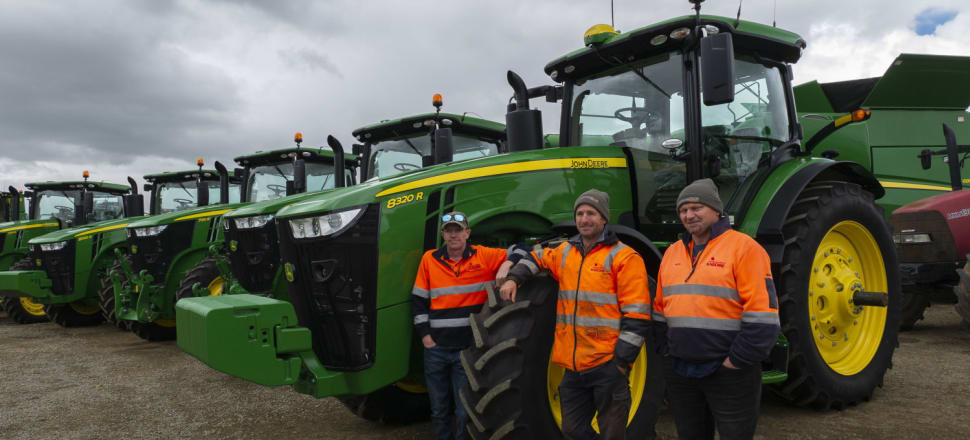 5370537724001
Haeusler's Echuca started delivering on a $3 million machinery sale when the first of 12 John Deere tractors arrived across town at Kagome.
For the Echuca-based fruit and vegetable processor — the largest in Australia — and Haeusler's, this monster purchase/sale is their biggest 'one-shot' deal and has been a few years in the making.
The sale included 7000 and 8000 series tractors, ranging from 210 to 320hp.
Two smaller 6000 series with 175hp were also a part of the sale, but they will be delivered in November.
Haeusler's Echuca sales manager Richard Jardine said the new units had the latest features, including cutting-edge agriculture technology.
"With the new machines you can dial in and see what they're actually doing — workloads, track hours, service time — all via computer or phone," Mr Jardine said.
"They also include GPS, which helps with steering and paddock coverage, apps to control the volume of chemicals coming out and the ability to record data for future reference of crop growth."
The new technology also means new skills for the Kagome team, and Haeusler's integrated solutions consultant Scott Nicholl provided a specialised training session.
"We went through the new technology and what they can do with it," Mr Nicholl said.
"It's really switched on now, with remote machine monitoring we are able to send software updates from the dealership without having to go to the machine.
"They can also transmit agronomic data back to their operations centre."
Kagome general operations manager Chris Scott said the company's current fleet of 25 tractors ranged in age from four to 20 years, and the cost of regular maintenance to keep them operating at maximum efficiency was becoming increasingly expensive.
"Efficiency is what we are looking for; partnering with Haeusler's has been key for us moving forward," Mr Scott said.
"We're taking possession of 12 tractors at the moment and hopefully we'll eventually upgrade the whole fleet."