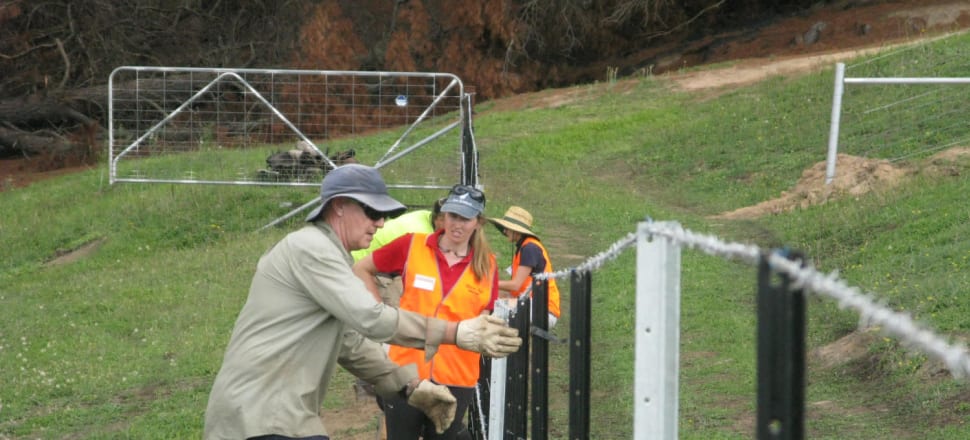 5370537724001
The irony was not lost on anyone.
Blaze Aid was in town to help repair the charred moonscape that surrounds Corryong after the summer's bushfires besieged the town and half the country.
Work had to be postponed because it was wet and one of the volunteer vehicles had rolled.
And we, who had not been caught in the firestorm, were there now, to do our bit, to lend a hand and be mates to farmers desperately trying to restore kilometres and kilometres of lost fencing.
All grand designs for a city girl, who would struggle to tell the difference between an alpaca and an Ayrshire, but who had volunteered for the Blaze Aid team thanks to an uncle who is a fencing contractor.
When my uncle, Paul Keady, told me his family and friends were going north as Blaze Aid volunteers for the long weekend, as a professional stickybeak it was too good to miss.
Blaze Aid currently has eight camps across Victoria and 24 in NSW and we had set up at the Corryong Recreation Reserve, but we had nowhere to go.
So, with our bubble of enthusiasm slightly deflated, we headed into town to tip some money into the local economy at the farmers' market.
Uncle Paul had struck up a conversation with a woman running one of the stalls and she was telling him about her fences — all gone, and her husband battling on single-handed to replace them.
In minutes, Uncle Paul had offered his assistance, ran it by Blaze Aid and we had a definite date for the next day at her farm.
That simple gesture had reduced her almost to the point of tears.
Suddenly, standing there in the thriving little market, I was seeing the people, their town and their district through new eyes.
Recognising the hurt, the emotional bruising, just below the surface but admiring the resilience of them all, prepared to stand their ground and rebuild everything that had been lost.
Blaze Aid camp administrator Wendie Wilkie was running the Corryong operation with two other volunteers, keeping track of 60 to 80 people daily.
"It's complicated but we need to see how many people we have, how many properties we can reach, as well as trying to keep some continuity of teams on properties, so there's not a brand new group each day — which would be hard for the farmer to handle," she said.
"We have about 12 or 14 backpackers and they're really enjoying it because now they can meet a lot of Australian people and learn about Australian farming, whereas before they would have only met other backpackers.
"The local Lions Club ladies do the majority of cooking at night but it is quite tiring for them and we're looking for people who can organise the kitchen — we have plenty of people who can help but what we need is someone who is used to catering for a large group, who knows what to cook and how much."
She said although the hearts of people who send food, clothing and goods are in the right place, it creates more problems as it not often needed.
Without doubt the recovery process will take years, but Blaze Aid — with its limited resources and total reliance on volunteers — is only planning another six months at Corryong.
On the drive out of town at 7.30 am the next day I was struck by the carpet of green, of nature beginning her own recovery by masking the starkness of charred trees and blackened paddocks and countryside with new life.
Sitting beside me, second-time volunteer and recent retiree Geoff Bray from Shepparton explained what had brought him to Corryong instead of enjoying a long weekend in the comfort of his own home.
"It gives you a little bit of self-satisfaction in that you can help someone out who's lost everything," he said.

Geoff also volunteered in mid-February and said on that trip Blaze Aid was feeding more than 90 volunteers every night.
"Volunteers vary from retired farmers to schoolteachers, doctors, airline pilots and university students — and backpackers, who are coming onto the scene with the new visa arrangements. So basically, every walk of life."
As soon as we reached our 'work site' we see the family's home — the one oasis of civilisation in landscape that was such a stark reminder of what had happened here.
The farmers who live there had been told their house was gone.

Surrounding sheds were gone, their pine tree windbreaks had not a single piece of green left and you could see the fire's high tide mark, where it had licked trees at the gate before inexplicably heading in another direction.
Turning full circle as I stood in their yard I could not even imagine what this looked like at the height of the bushfires; the owners said when they fled, the hills around them were pulsing red.
Our small team were all clad in hi-vis tops with heads encased in earmuffs and safety goggles and we began to work.
I could not see myself doing this, day-in and day-out — but the farmer was.
I think we all agreed by the end of the day I had no future as a fencer; but I had successfully helped to level posts and run wire.
It was physically draining but by 4 pm there was an inner sense of achievement — and an overwhelming sense of admiration for the farmer's life.
And yes, Geoff Bray had been right, I knew we had helped someone in need.
Back at Blaze Aid HQ I signed out, sorry I could not stay another day.
For many of those who volunteer, the trip wasn't just about mending fences, it was about building bridges with our country cousins.

The ones who grow our food and fibre, the ones hidden behind supermarket shelves, the ones too few of us in the cities understand.