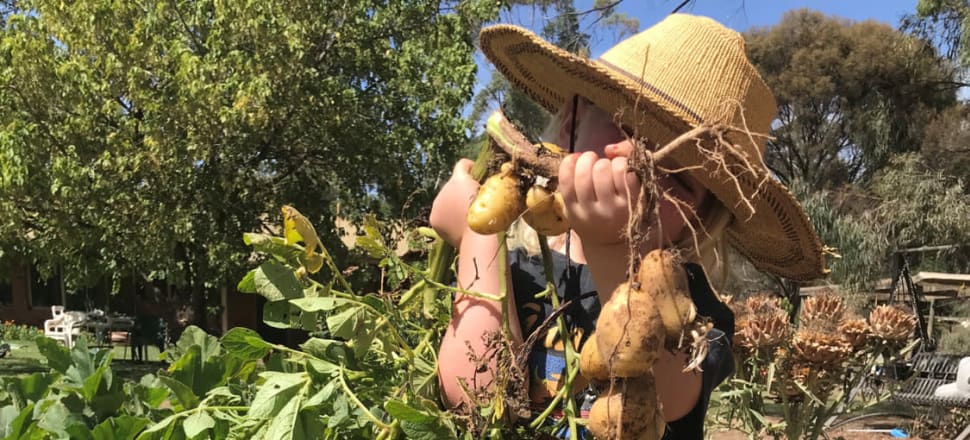 5370537724001
Many people who are at home at the moment are finding themselves with more time on their hands and might consider growing their own vegetable garden.
Luke Lewis from Murchison has a backyard vegie patch where he has been growing vegetables for about two-and-a-half years.
"Right now we are growing potatoes, asparagus, pumpkin, zucchini, dill, and we just harvested corn," he said.
The plot is almost 0.8 ha and Mr Lewis has grown his produce with the help of his wife and three children.
"It's really good to show kids where food comes from and to be able to produce a whole meal," he said.
"We have a bunch of raspberry and strawberry plants that they pick off and eat."
Mr Lewis said there were many benefits to growing food at home.
"We think it tastes better, you can get heirloom varieties with rich flavour profiles that aren't necessarily grown by supermarkets."
He said his wife picked up gardening skills from her family, who grew their own vegetables.
"Picking the right spot is important, especially during winter; vegetables need six hours of sunlight," he said.
"Keep the ground as soft as you can by turning over the soil, especially for rooted vegies that grow underground."
A tip provided by Mr Lewis was to find out how many seeds needed to be planted in advance.
"The first time we grew zucchinis we ended up with way more than we needed. Don't go wild, you probably need four plants and plant them a week or two apart so you're not overwhelmed," he said.
Mr Lewis said growers needed to be mindful of the the changing seasons and that as colder months approached it would be increasingly difficult to grow vegetables.