Two names is double the trouble
Henry Noye of Ruffy ended up paying twice what he expected for his new border collie-cross pup. Eager to live up to the extra price, the puppy now goes by two different names and contains twice the amount of energy. He has even got two trainers, with Henry's daughter-in-law Jasmine Tobies joining in the action.
Tell us about the new addition.
Jasmine: His name is Jax and he's four-and-a-half months old. He's a border collie we got for $1000.
Henry: His name is Spike. At first the bloke was saying the pups were $500 which was all right for me, but then his mates got a hold of him. It's the most I've ever spent on a dog all right.
Why two names?
Jasmine: Jax sounds better but Dad went for Spike. We were watching Rams the other day and it's about two brothers who don't talk to each other but have neighbouring sheep properties. There is a scene where they fight over the dog at the mailboxes and keep calling it to see which one it'll pick. That's like us.
What was the litter like?
Henry: The bloke is five kilometres down the road. There is actually a fascinating story. This chap had lost his sight in a car accident and he had this border collie bitch. She had her litter in a new chook house and it poured rain. He went out there and found the puppies floating around in the water and he felt around and could only five five puppies — but he knew six were born. Anyway, he managed to bring five inside and he found the sixth pup in the mother's mouth. She'd been carrying the pup the entire time.
Why did you pick this puppy?
Henry: I went down to have a look with my wife. She wanted a brown one but those were all gone so I went for the biggest. It's usually the runt of the litter who goes first ... but really the dog picks you.
What's Jax/Spike like?
Jasmine: He loves barking at goats and chooks, rounding up the sheep and barking at the pigs and horses. We are working on car-caution right now.
Henry: He will be a really good dog with some training.
What sort of farm do you have?
Henry: It's mainly beef but we have Merinos and fat lambs. It's about 80 breeding cows, 100 sheep — just enough to keep us in the lamb and meat job. Jasmine also has 30 dairy goats for these soaps she makes. Whatever she can breed, she'll have. We also do fox shooting.
Jasmine: We have a lot of people who come from Melbourne to do fox drives. For the last two years we haven't been able to shoot at all (because of the COVID-19 pandemic) and the fox numbers have definitely grown. They are coming up to the house when they never used to and I've lost a few guinea fowl.
How many farm dogs do you have?
Jasmine: There is Jax; Arley, a nine-year-old kelpie x koolie; and a 14-month-old border collie called Jessie. There is also an Irish wolfhound we use for fox hunting.
Henry: Abbey is an old blue heeler who's been in her own Man's Best Friend (in 2016). She's got three legs, is blind and deaf. She doesn't do much but the other day we had a butcher here and she smelt the meat and laid out under his work table at his feet. Every now and again he'd drop little bits down to her.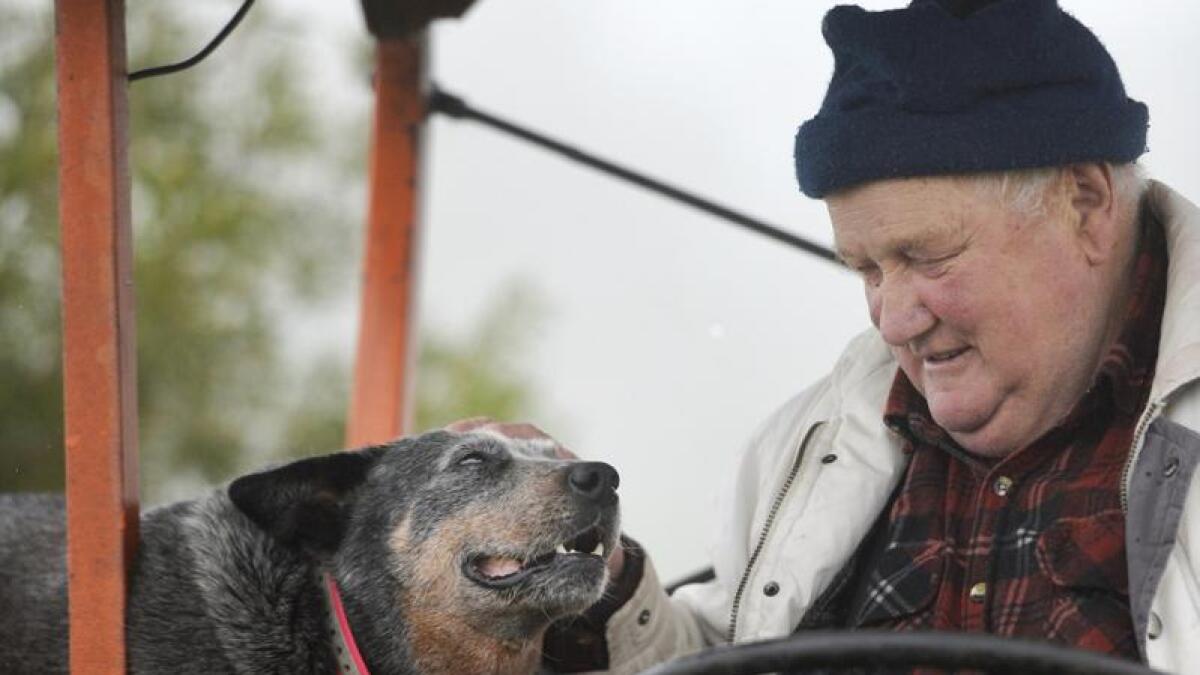 Do all the dogs help with hunting?
Jasmine: Arley is trained for cattle, sheep and fox shooting.
Henry: He will also retrieve ducks.
Jasmine: Jessie is gun-shy, probably because we weren't hunting when she was a pup. All the farm dogs will go in the car with anyone who'll let them. We used to have eight to nine dogs, so what we have now isn't that much.
Henry: Spike has the drive to be a good fox dog too. He's got no sense of fear.
Are the dogs good with livestock?
Henry: If Jasmine has got a motorbike, she can move sheep or cows anywhere with Arley.
Words and pictures: Daneka Hill.