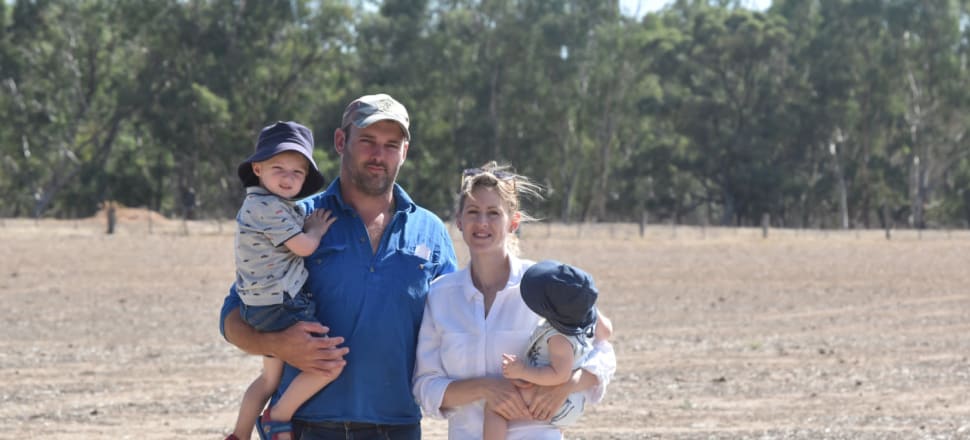 5370537724001
Woodleigh at Gonn (near Barham in NSW) has been home to the McDonald family for a century.
Current custodians and third-generation farmers Glen and Kendell McDonald are wondering if they will be the last.
The 1000 ha mixed farming property has been built over the years to include a successful, self-replacing Merino, fat lamb and cropping operation.
Success for the family business has always been based around water security, something NSW irrigators have had little of, particularly over the past two years with consecutive zero allocations.
"Our farm used to support 1200 breeder ewes on average and we are back to 400 now and I am not sure if we can even sustain those numbers," Mr McDonald said.
"We have spent $100 000 on feed alone just to keep the flock alive the last two years."
Without irrigation, the stock-carrying capacity of Woodleigh is minimal, which is why over time, the business has spent hundreds of thousands of dollars on earthworks to improve water efficiency and irrigation practices, including $80 000 on a reuse system to capture water run-off.
"Woodleigh was set up as a mixed farming operation and it worked well and successfully for many decades, but we need water security," Mr McDonald said.
"We keep getting told to innovate to survive but we can't innovate and survive without access to water."
He said current high prices of temporary water had put it out of reach, leaving grain and hay the only option left to feed stock.
"Hay and grain and prices have been through the roof.
"We have extended our overdraft twice this year already and we can't continue to operate our business this way."
Mr McDonald said the family business had always been able to survive and ride out the tough drought years — but that was always underpinned by access to some sort of water allocation.
"It used to be unheard of that farm businesses would go broke in the first couple of years of a drought because we always had irrigation to help us ride those tough times. Now people are leaving the land at alarming rates."
He said to add insult to injury, he watches high volumes of water run down the Murray — eroding banks and damaging the river.
"The government say this is environmental water but what about the environment they are killing on our farms?
"It is just an insult to the farming community. We are given no recognition for the environment irrigation sustains and supports on our farms.
"We set up a solar pump off the river to fill some small dams we had on our property, which were dry, and as soon as water came back so did the wildlife — it was amazing."
Mrs McDonald said the past few years had been particularly draining.
"It gets very depressing to continually look at dry dusty paddocks season after season," she said.
"From a mental side it has been very tough to watch Glen as well, because this is all out of his control.
"Depression is rife in our community and everyone is very stressed because nobody knows how or where this is going to end."
Mrs McDonald is sick of politicians who nod their heads and say they understand the plight of the farming community — and yet continue to do nothing.
"There are a lot of young people who have come to back to the area to raise their family and they want to stick around in our community," she said.
"We also want to give our two young boys the choice to farm in the future if they want to."
"Every generation of our family has been a custodian of the farm," Mr McDonald said.
"To improve it and pass it onto the next generation to give them a good start, and we desperately want the same opportunity for our boys."