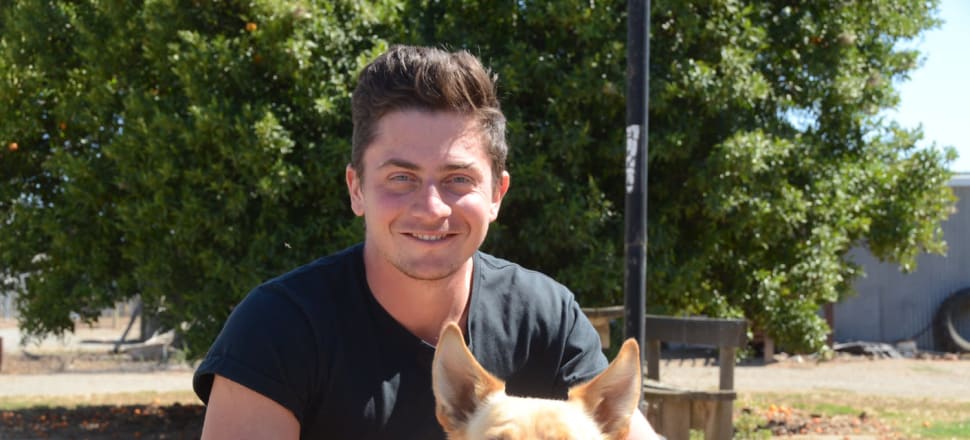 5370537724001
Walter the kelpie has three loves in life — cows, tennis balls and his owner Daniel De Cicco. Walter works with Daniel on the DeCicco family dairy farm in Undera with his dad, an eight-year-old kelpie named Buddy.
How did he get his name?
I always wanted a dog with a distinguished name and it is also honouring the character of Walter White from the show Breaking Bad because he's a white kelpie.
How long have you had him?
He is three years old and was born on the farm. It's a real family affair, we have the father and the mother is the cousin's dog. He was a litter of five, we kept the white one and gave the rest to family.
What's his personality like?
He's complicated and has many different sides; friendly with people he knows but very protective or loud with strangers.
Is he trained?
He was trained on-farm and basically just followed his father around the farm. He gets the cows in the mornings and he's really good on the feed pad, he goes from side to side to round them up. He loves the farm work; any time he hears the motorbike he's ready to go. Sometimes before you go out in the morning he already knows which paddock the cows are in.
What's the best thing he's done?
He's really good in sticky situations. When you're trying to get one group of cows in and you're so desperate, he'll hear you calling and come and save you.
Does he have any funny habits?
He's so obsessed with balls, he'll use one until it's no longer a ball anymore and still bring it to you and expect you to throw it. A year ago on ebay I saw a box of 100 balls and bought it for him. We're a year-and-a-half in and I think we've got a fair amount left.
What does he eat?
He gets a mix of dry food and canned food. Sometimes he eats scraps of bones, pizza and pasta. We have a place for Smackos we give him at the dairy.
What would you do without him?
We spend a lot of time together, four or five hours every day. He follows me everywhere I go. I would be lost for a while and would be pretty devastated.