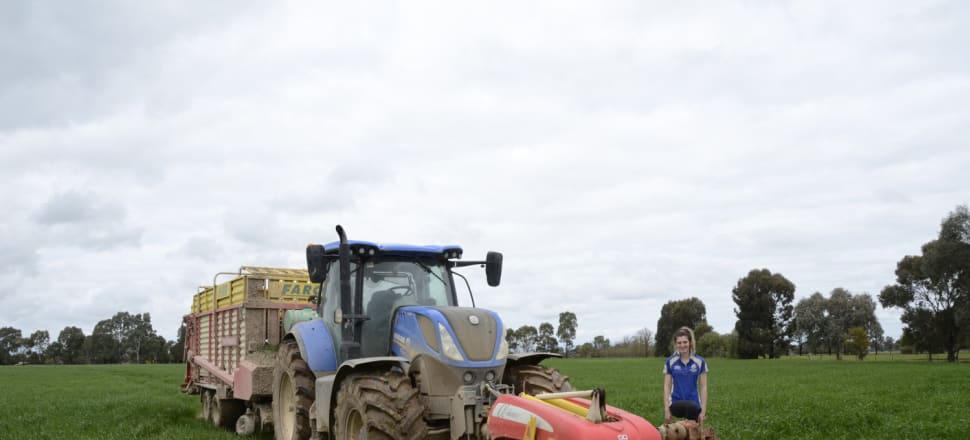 5370537724001
With 900 hungry cows in the herd and seven employees to manage in the business, machinery reliability is an important factor in Andrew Newnham's dairy operation.
The Lancaster farmer runs a cut-and-carry operation on about 480ha of owned and leased land, sown to wheat, vetch and lucerne.
A key part of the operation is the New Holland-Pottinger tractor, mower and loader combination which brings in fresh feed for the dairy herd.
After a succession of poor seasons, the improved rainfall is promising a better year and Mr Newnham hopes to generate between 4500 and 5000 tonnes of silage.
His Pottinger loader wagon does about 1400 loads a year and there's hardly a day goes by when it's not operating, so he needs to rely on the machine and back-up service.
"This machine runs every day of the year and I can't just stop. 'Tomorrow' is not an option. Everything has to be done today," he said.
"We've been pretty happy with Chris Pettigrove at Echuca Rural Group. I think we've been dealing with Chris for about 25 years.''
Mr Newnham runs the Pottinger Faro loader wagon behind a New Holland 735 four-wheel drive tractor, with a Pottinger Alpha Motion mower hitched to the front.
Pottinger produces the Faro range of 3510, 4010, 4510, 5010 models in the medium-capacity loader wagon segment, operating between 90 and 150hp.
The 31-knife knife bank and powerful rotor drive for higher capacity make the new Faro a high-performance loader wagon.
The machine uses a controlled pick-up for clean forage and the sealed twin-race roller bearings on the cam rollers are designed to withstand high stresses.
The pick-up tines are controlled in a sweeping arc. This results in optimum protection of the sward, lower levels of soil contamination and prevents unnecessary wear to the tines.
The automatic loading system guarantees that the wagon is filled to achieve maximum transport capacity.