Hot prices at chilly Euroa sale
There were beanies, raincoats, gumboots and plenty of hands buried deep into pockets — both for warmth and money — at the annual Euroa End of Financial Year Sale.
Held on the first day of winter, the Euroa Saleyards endured a chilly wind and misting rain while the temperature hovered around five degrees.
The sale's top price was $4000, achieved by a pen of 10 cows and calves offered by the Strathbogie-based Strath Hill.
Strath Hill was also the biggest volume vendor on the day with 200 cattle in total.
The sale average of $2152 reflected the cattle quality and the never-ending demand for stock.
Nutrien Harcourts Euroa livestock agent Brad Gleeson said the yarding quality was "very good" but the effects of the cold weather were starting to kick in.
"Prices were generally $100 to $200 dearer on the last monthly store sale with numbers and quality playing a big part in this," Mr Gleeson said.
"Vendors were very happy with prices they received on the day. Angus weaner steers 250 to 350kg returned rates of $7.30 to $7.70."
There were also 1000 unjoined heifers at the sale, which saw big interest from Queensland.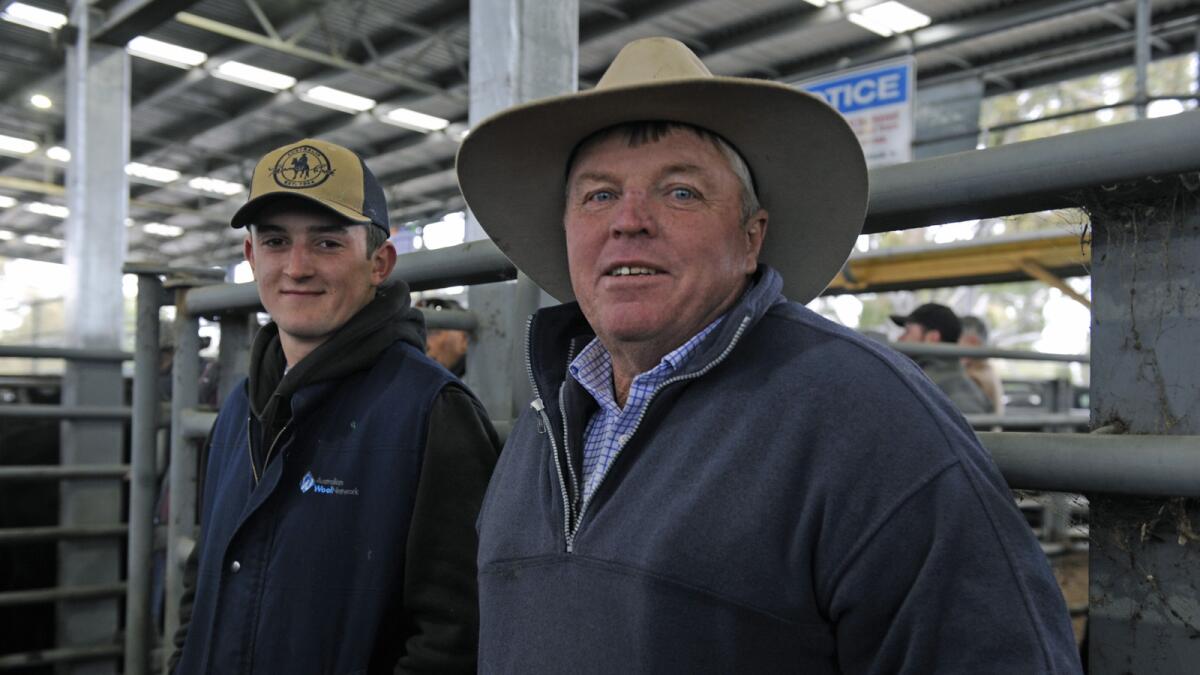 Agents Peter Stevenson and Lachy Hughes from AWN Shepparton travelled to Euroa to check out the prices.
"The price is just too hot for us," Mr Stevenson said when the auction was halfway through the steers.
"They are making $7 a kilo. We're going to hang around to see if there are any little ones, we usually go for the lighter weights which are more affordable.
"Farmers would rather be told they need to put a bit more time into an animal, than put a bit more money."
Tim Austin farms in Euroa and Kilmore, and watched his pens of Angus steers achieve top dollar — including the highest price for weaners in the entire sale at $2340.
"That price is about on the mark for what I expected," Mr Austin said when another pen of 280kg steers sold for $2200.
"We generally sell at this (EOFY) sale because we are spring calvers and it lines up. Some buyers just want the cattle, but others are buying for tax purposes today."
Cattle farmer Philip Dean also takes special notice of the EOFY sale.
"There are a fair few more buyers here today," Mr Dean said.
"These steers were ready to go, straight off their mothers, and I thought it was better to bring them over than hang onto them. I don't want to brag but they are very good looking."
Mr Dean's pen of 294kg steers sold for around $2200.
"I was standing right next to the guy who bought them to background, then they'll go to a feedlot I reckon," he said.
"I've never seen a better yarding of cattle and I've been coming here for years."
The End of Financial Year Sale is one of the biggest at Euroa Saleyards and yarded 1300 cattle all up — 1600 weaner steers, 1000 unjoined females, 200 grown steers, 60 cows with calves and 240 PTIC females.