Rain proving to be a blessing or a curse for grape growers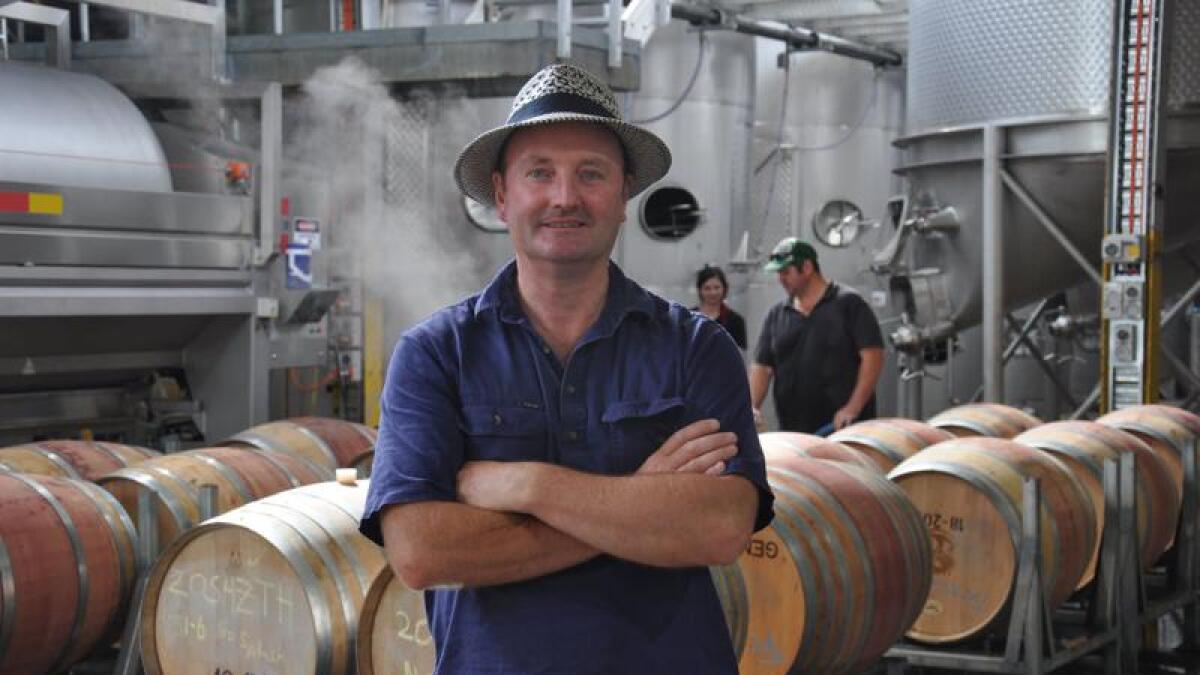 The recent big rains across the region have been a blessing for some grape growers, while for others they will prove problematic at harvest time.
Wine by Sam winemaker Sam Plunkett's winery grows grapes at its home vineyards in the Strathbogies near Avenel, while it also buys from other growers throughout northern and north-eastern Victoria, as well as one in western Victoria.
Last week Mr Plunkett spent a day visiting vineyards in the Strathbogies, Dookie, Murchison and Glenrowan.
The differences between the vineyards depended on how much rain each area had received the previous week.
The ones with the higher rainfall figures could face some problems when it comes time to harvest the grapes, while others in the more traditionally hotter and drier areas had received a considerable boost from the rain.
According to Mr Plunkett, the differences in weather between this season and last year's were huge.
"It's pretty extraordinary to go from a hot, dry, bushfire year to one with too much rain," he said.
"It's been a coolish season. We get better fruit from longer seasons.
"Areas that are generally dry and hot will have a good season.
"I saw some pretty exciting fruit north of the Great Divide."
One vineyard he was particularly impressed with was Gentle Annie at Dookie.
With more rain and cooler weather this season, the vineyard is looking better than normal.
"I think we might have a cracker of a year off the Dookie vineyards," Mr Plunkett said.
However, vineyards in the Strathbogie Ranges were having a harder time of it.
"In the cooler climate (like the Strathbogies) we might run out of sunshine; combined with the wet weather, they are more likely to suffer."
One variety of grapes he saw in the Strathbogies had "significant splitting" caused by the rain.
However, splitting is not uncommon and can be overcome if the weather dries up and those berries drop away.
"I think it depends on what happens over the next four to five weeks," Mr Plunkett said.
"If there are windy and dry conditions, it will be all good."
However if there was 25 mm of rain a week for the next five weeks, it would be "challenging" to make good wine, he said.
There is also the concern of fungus in grapes in heavy rainfall areas if the rain continues, or if there is lots of humidity, with grape growers needing to do some work to stop it.
However, it is not an impossible task.
"I think the conditions will separate the good growers from the ho-hum growers," Mr Plunkett said.
"Good growers will modify the environment to get good air flow."
He said the good growers would be edging and slashing in their vineyards to allow more airflow through the vines to dry them out.
The fungicide, EcoCarb, could be used where its potassium bicarbonate acted to change the pH levels of the fruit so bacteria and fungus cannot grow.
"If the weather stays nasty, and with rain coming, and humid, there will be some losses," Mr Plunkett said.
However, he felt that those growers who had no signs of mould already in their vineyards would be able to weather the bad weather.
On the other hand, things could turn nasty within a couple of weeks for those who had their canopy already on the ground with conditions ripe for spoilage, he said.
"For some vineyards it will be really difficult and fruit quality will fall away.
"But warmer climate vineyards would be going 'how good is this'.
"Locally (in the Strathbogies), with 60 mm of rain two weeks apart, we're still in the game.
"The two big rain events are challenging. At this stage the quality is lower than average.
"Whether that is smashingly average or a cycle of good and bad years, we won't know until harvest."