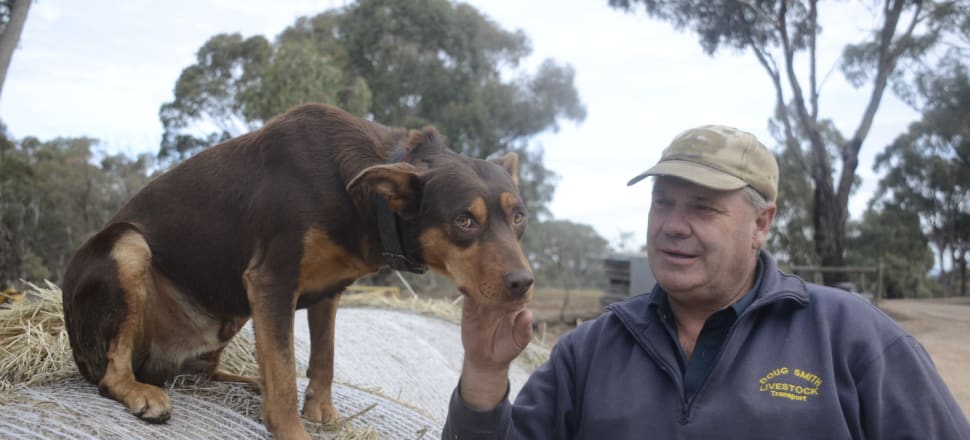 5370537724001
How did Wally get his name?
One of the kids said one day, ''Where's Wally?'' — so it's been Wally ever since.
What is his personality like?
He's got a beautiful nature. There's not a bad bone in his body. He's very loyal. He never goes to far.
What is his working ability?
He's at the stage where you wouldn't be without him. He chases them out of the truck and backs them when I'm loading. He makes life a lot easier.
Is he a better paddock or yard dog?
He's better in the yard and the trucks. I got him for a truck dog. I've never tried him in the paddock but he will go and bring the pet calf up.
What does he do when he's not working?
He spends a lot of his time in front of the heater, especially when I'm not home. I try to make him more of a working dog but here they seem to end up as pets. His best mate is the standard-bred poodle. They just annoy everybody and knock you over.
They'll often chase the horses in the paddock.
How does he get on with the other animals on the farm?
He gets on well with the chickens. He will lie down and a chook will come up beside him and he hardly looks at it.
Where does he sleep?
In the cage at the back of the shed, which he shares with the poodle.
What does he eat?
He gets pellets, canned food and a few scraps. He's always hanging by the back door waiting for something.
Has Wally been involved in any accidents?
He's been kicked by a horse but it didn't hurt him. He did learn not to go near them though.
What would you do without him?
I'd have to work a lot harder.